Stephanie and Drew met walking down the aisle at a wedding. Drew's brother married Stephanie's best friend, and they were paired up to walk together.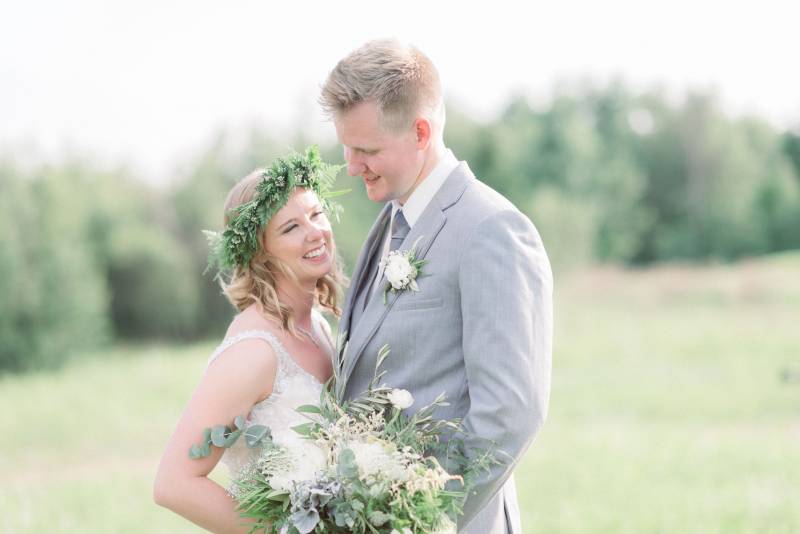 In Stephanie's words: "Although we had a great time goofing off throughout the day, we were both in different relationships at the time and did not end up seeing each other again for four years. In October of 2016, the same couple brought us together when we attended their baby's first birthday party. We realized we enjoyed the same things and started spending the vast majority of our time together."
As they spent more and more time together, they quickly realized that their feelings for each were something real. From Stephanie: "I fell in love with his heart for the Lord, his witty humor, his sense of adventure, and the way he showed that I was a priority to him. He was charming, a gentleman, incredibly patient, and a ton of fun to be around." From Drew: "I was attracted to Stephanie from the beginning, but this only grew as I got to know her better. She is sweet and smart and I loved how we could have intelligent conversations together about our shared beliefs."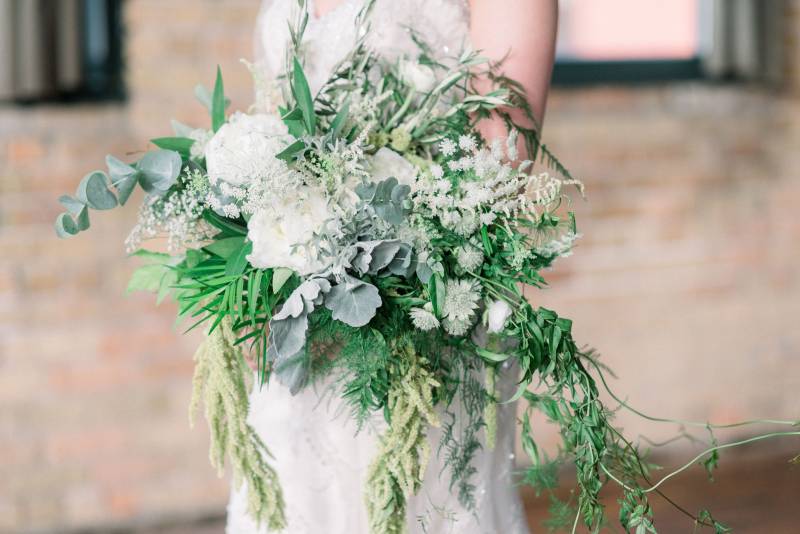 When deciding where to get married, they wanted to choose a location that was meaningful to them, but also fit a certain aesthetic. They found the perfect blend of both in Clyde Iron Works in Duluth. Their church meets in the event center, and the industrial vibe played well with the greenery theme Stephanie was planning.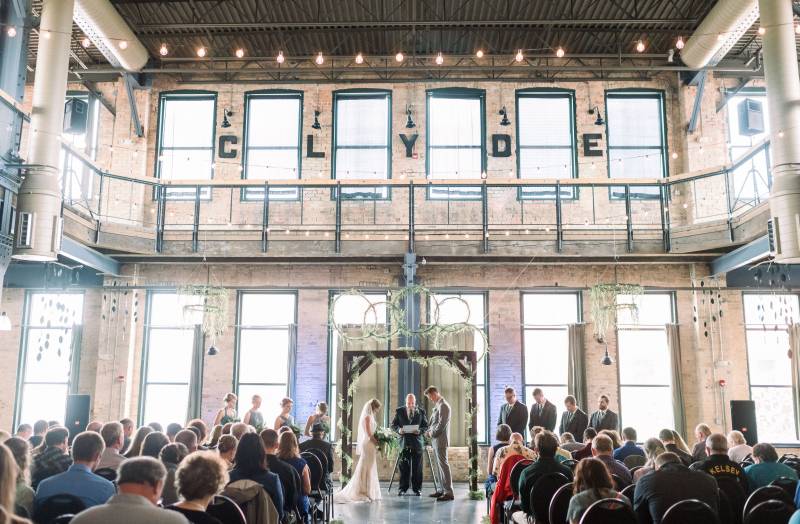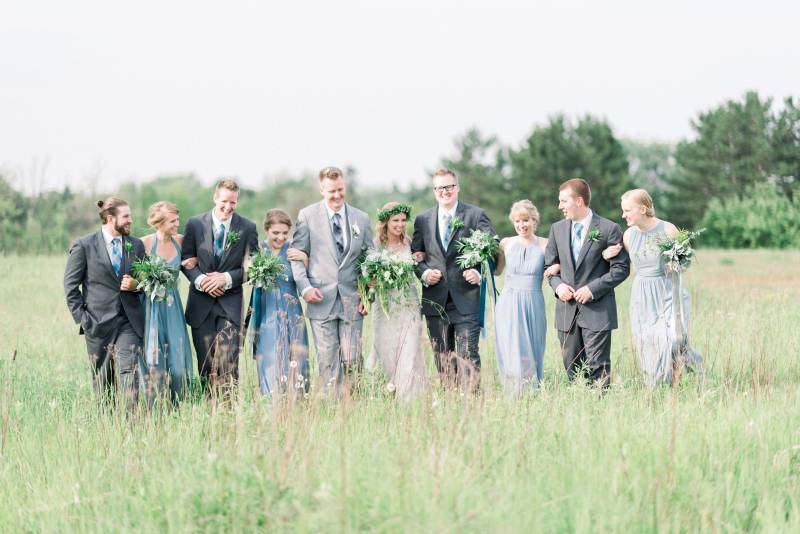 Stephanie made a lot of décor elements herself and with the help of some friends. She took hula hoops and covered them in artificial greenery to create cascading chandeliers with twinkle lights. Her friend hand-lettered guests' names on magnolia leaves for the escort cards, and the extra leaves were strung together and hung from the balconies as a garland. The greenery elevated the brick and urban elements at Clyde Iron Works to create the perfect wedding backdrop.
While Drew appreciated all the hard work Stephanie put into making their wedding look beautiful, he has a different favorite moment from the day: "The moment I first saw Stephanie at our first look. She had written me a letter to read right before I turned around to see her and the combination of her sweet words and then seeing how beautiful she looked overwhelmed me with emotion. Our first look had been postponed for over an hour due to heavy rains that caused a flash flood right outside our wedding venue, so I was so relieved to finally get to be with her."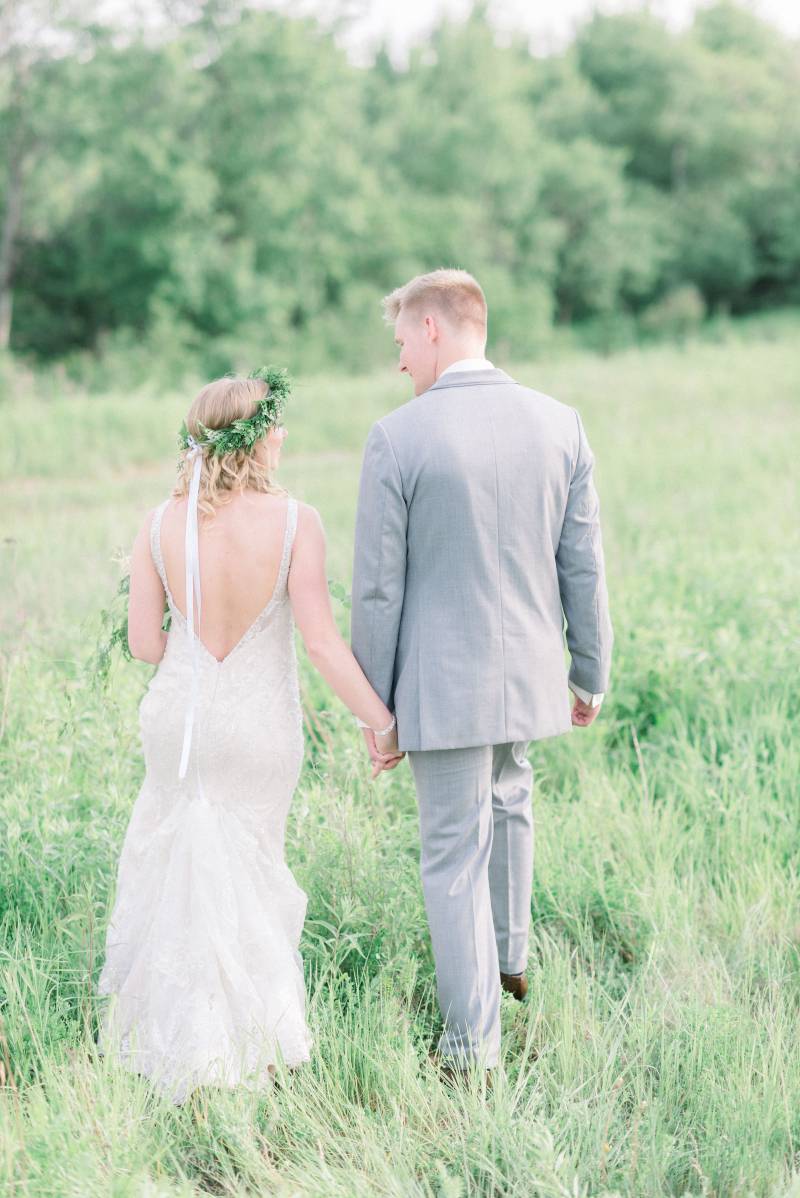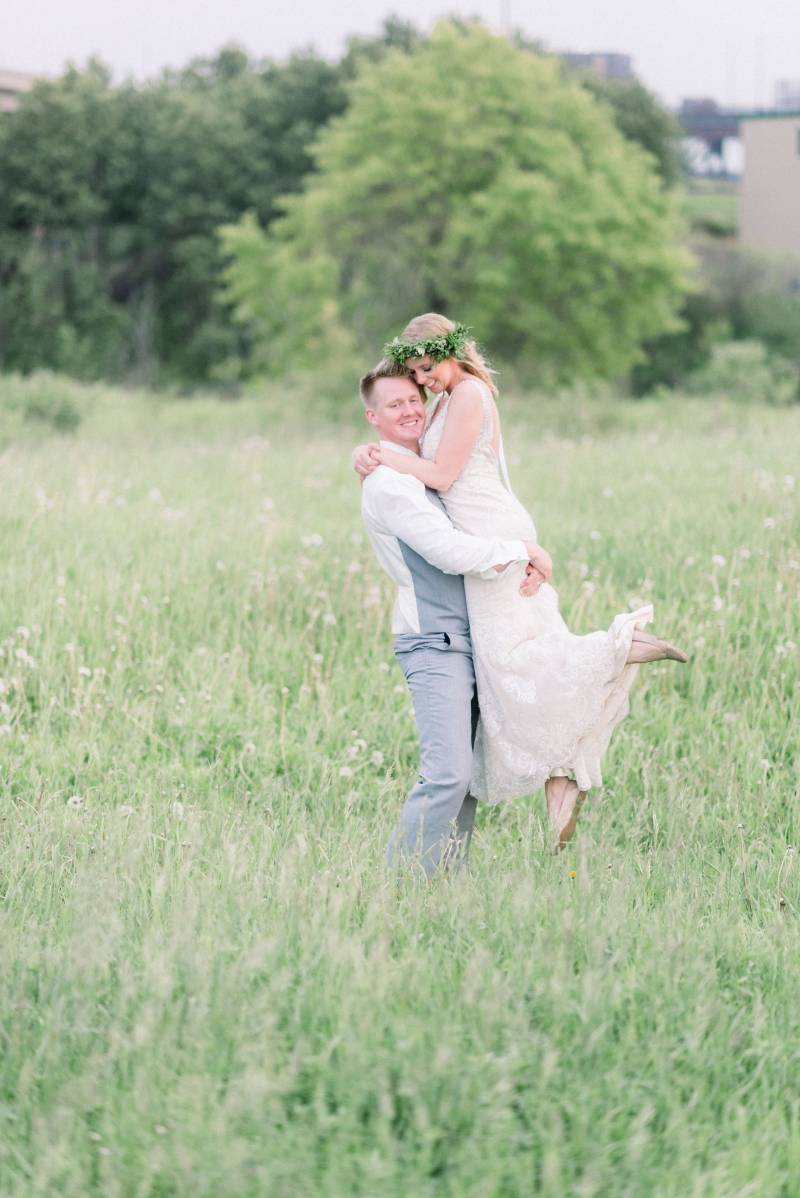 Featured Vendors:
Venue & Food | Clyde Iron Works
Florist | Saffron & Grey Couture Floral Design
Bridal Gown Shop | Christian Lane Bridal
Groom's & Groomsmen's Attire | Arthur's Formal Wear
Other vendors: Meagan Elling Photography, Madison James, The White Ribbon Etsy Shop, Azazie, Kennedy Blue, Bill Levkoff, and Jasmine, Security Jewelers, Coin Rings by Adam, Fable and Paper Etsy Shop, Maria Swanson at Ulta Beauty, Elle Davidson, Charles Jett, Superior Ballroom Dance Studio
At Lake Bride Magazine, we strive to continually inspire you and your ideal "I Do's" by featuring a collection of beautiful inspiration, the best local resources, the latest trends, and practical planning tips for your special day. Reserve your issue HERE.