Aarica and Adam knew many of the same people and lived near each other, but their paths didn't cross until they met on match.com in 2013.
In Aarica's words: "Once we met, the feelings we had for each other were very deep and very real. We had both never been married and with waiting until later in life to meet each other, it felt like a dream, and continues to do so."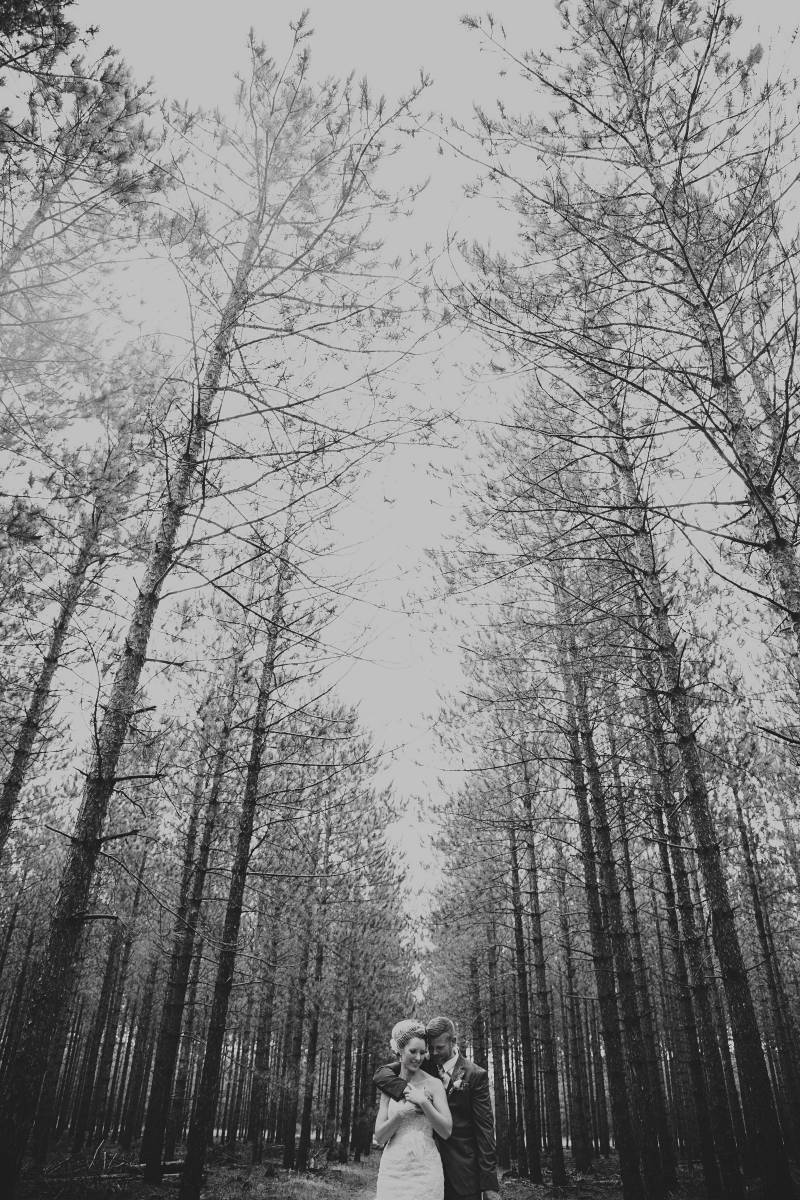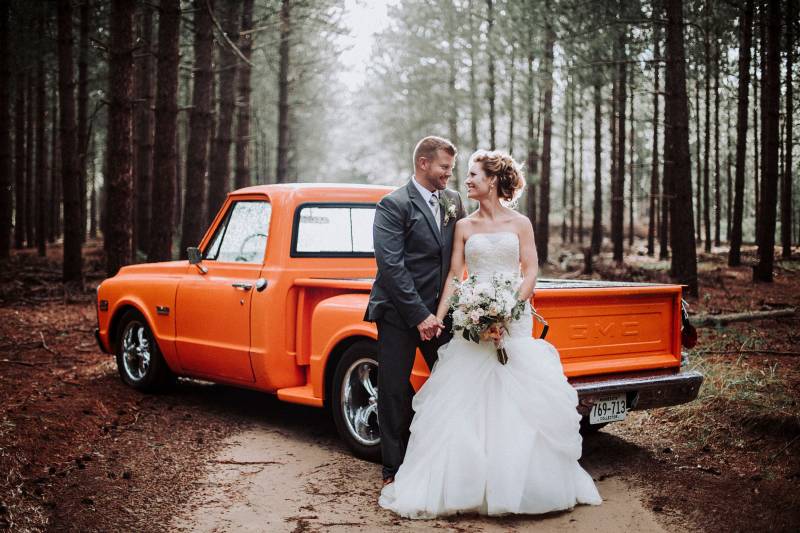 "When deciding to get married at the ages of 40 and 38, we planned the ultimate 'simple wedding in the woods' at my parents' property in Verndale, Minnesota. For 1 1/2 years we planned, built, and executed the perfect setting. Some would say it was anything but a simple wedding in the woods with the work that went into it, but for us it was perfect. Spending time with each other, spending time with family, and using our creative minds to execute what most would consider only a dream, and never a reality.
"With plans on building a cabin the following summer after the wedding, we decided to build a chapel on the foundation of our future cabin. With this location, it will be something that we can remember every time we take that walk down the woodchip path that leads us to our beginnings as a married couple. We were married at the chapel, which is now the entrance to our bedroom, and marked by the same crystal ball that hung above us from our chandelier that beautiful day."
"We decided to transform our pole barn into our reception hall by using the slab wood that was left over from the logs that were cut for our future cabin. With the families' help, we lined the walls with the beautiful barked wood, and made a custom bar and custom pieces to finish the look."
They filled their bellies with wood-fired pizzas and appetizers before indulging in homemade caramel rolls from their Amish friends near the cabin. They were serenaded to "You Are the Best Thing" by Ray LaMontagne, danced under the stars, and enjoyed their evening with their closest family and friends.
Some final words from Aarica: "To this day we still feel that our decision to execute our wedding in this unique way was such a testament to each other, our love, and our dedication. Again, proving that LOVE IS DELIBERATE, and not ever wanting to jump ship."
FEATURED VENDORS:
Photography: Kimberly Williams Photography
Bridal Gown Shop: David's Bridal
Rings: Shane Co.
Other Vendors: Bryan Bratt Creative, Flowers by Stacy Lynn Eull, Sew by Design Lori Leslie, Log Home Wood Fired Pizza, Insparation Salon, Molly Poppins Popcorn, Benny James and Whiskey Lane
At Lake Bride Magazine, we strive to continually inspire you and your ideal "I Do's" by featuring a collection of beautiful inspiration, the best local resources, the latest trends, and practical planning tips for your special day. Reserve your issue HERE.