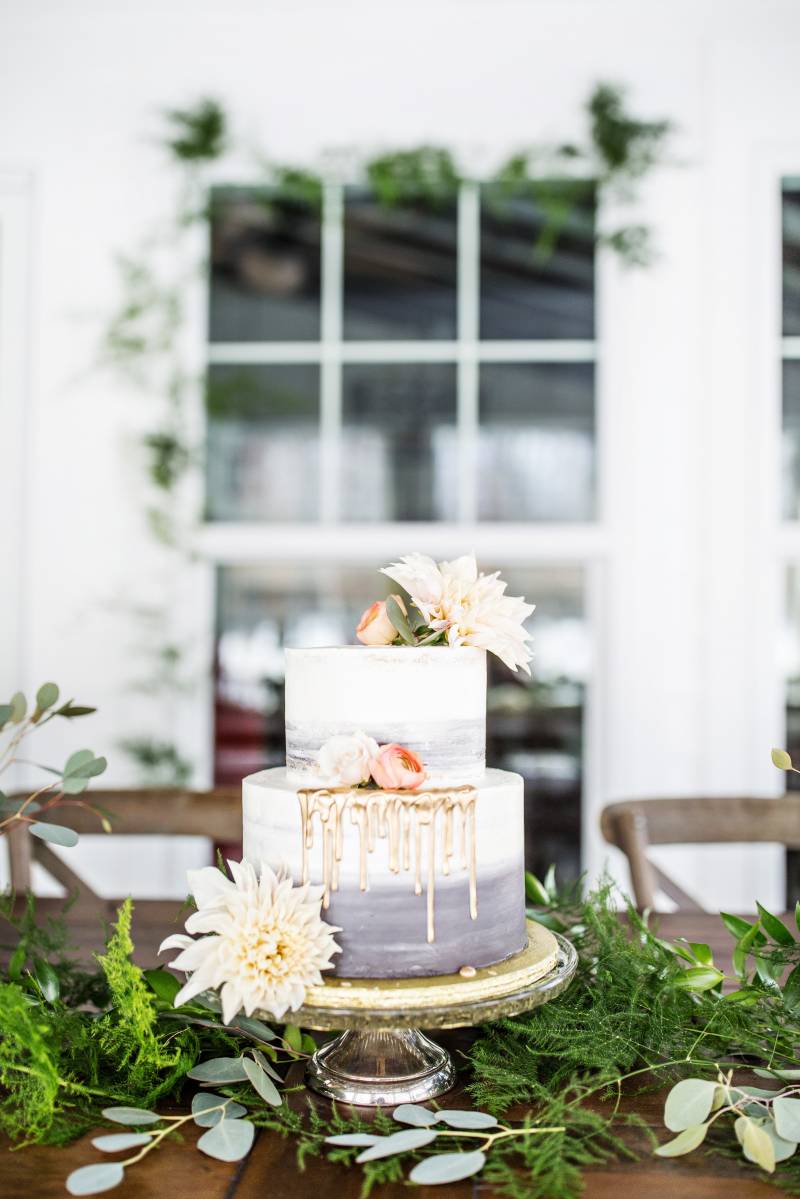 STYLE
A large number of couples have chosen the lakes as a destination for their wedding and are looking to incorporate city looks with the Up North rustic, woodsy style. And that, ladies and gentleman, is what we call "Up North Glam."
For this style, we take inspiration from the rustic venues (browns and neutral colors, antlers, pine cones, etc.) and add metallic accents, fresh flowers, and a little bit of bling. The woodsy elements and the metallics create a stunning yet organic look.
There are several other trends we're seeing in our 2019 cakes including semi-naked, textured buttercream, and a new technique of ganache coverage that looks just like fondant and can be painted to add different designs or watercolor style.
If you're using floral accents, we suggest using fresh floral rather than spending hundreds (sometimes thousands) of dollars on sugar flowers that are not even edible as they are hard as a rock and have tons of food coloring and wires in them. Be sure your baker uses a safe way to put fresh flowers on your cakes to avoid any cross-contamination or allergic reactions.
DISPLAYS
We saw a lot of dessert tables in 2018 with a small two-tier cake for the cutting and cupcakes or other small sweet bites to complete the dessert display. Some benefits of this style of dessert display is that you can have more variety of flavors and it is easier to serve from than a tiered cake that needs to be cut. Some of our most popular small bite desserts of 2018 were French Macarons, cupcakes, mini cupcakes, mini cheesecakes, cake pops, bars, mini tarts, cookies, and pies.
At the end of the season we started to see a change on the dessert table for a cake display table with a two- or three-tier cake as a centerpiece and single round cakes around it. This allows for faster service with regards to cutting the cakes, and it also makes a beautiful display and a very interesting design element of the wedding.
We started our 2019 wedding season with bigger tiered cakes, either a trio of cakes (three-tier, two-tier, or single tier) or a four- or five-tier cake standing solo on the table. As we move into the summer and fall weddings, we are seeing more and more of this and a little less of the big display of a cake with smaller desserts around it. If you would still like an assortment of smaller desserts, consider having a solo tiered cake on one table and the small desserts displayed on a different table.
FLAVORS
While it's important to showcase the couple's favorite treats, we always suggest to have a variety to accommodate everyone's tastes. We usually suggest to pick four to five flavors: one gluten free option, two simple flavors like vanilla or chocolate, and two more gourmet, fun, out-of-the-box or customized ones.
Your fun flavors could be inspired by your favorite childhood treat, like peanut butter and jelly, or a modified family recipe that everyone loves. Adding fruit into the cake batter can give an extra layer of flavor like our famous and best selling Vanilla Raspberry with bits of raspberry in the cake. Men usually like dark chocolate, peanut butter, or any strong deep flavors; our best tasting cake for grooms is Banana Chocolate Peanut Butter.
There are some things that as a guest you are expecting when you go to celebrate a wedding day of a loved one... the food, the drinks, and the cake! If you make sure your desserts are delicious and beautiful, they will never stop talking about your wedding!
CLASSIC VANILLA BUNDT CAKE
Bundt cakes are so easy to make, delicious, and don't need much work to decorate. Present them on a cake stand with fresh berries in the summer, or maybe some rosemary or orange wedges for fall. Makes about 10 servings.
INGREDIENTS
1 1/2 cups unsalted butter, softened
3 cups sugar
7 large eggs
1/4 teaspoon salt
1 cup heavy whipping cream
1 1/2 teaspoon vanilla extract
Garnish: sifted confectioners' sugar, fresh berries
DIRECTIONS
Preheat oven to 300 degrees. Spray a 15-cup bundt pan with baking spray with flour.
In a large bowl, beat butter and sugar with a mixer at medium speed until fluffy, 3 to 4 minutes, stopping to scrape sides of bowl. Add eggs, one at a time, beating well after each addition.
In another bowl, sift together flour and salt. With the mixer on a low speed, add flour mixture to butter mixture in thirds, alternately with cream, beginning and ending with flour mixture. Beat until smooth. Stir in vanilla. Spoon batter into prepared pan.
Bake for 1 hour. Cover loosely with foil, and bake until a wooden pick inserted near center comes out clean, 45-55 minutes more. Let cool in pan for 15 minutes. Remove from pan, and let cool completely on a wire rack. Garnish with confectioners' sugar, if desired.
Tiered cake photo by Chelsi Elizabeth Photography
At Lake Bride Magazine, we strive to continually inspire you and your ideal "I Do's" by featuring a collection of beautiful inspiration, the best local resources, the latest trends, and practical planning tips for your special day. Reserve your issue HERE.