The night sky is as magnificent as it is mysterious. When the northern lights dance among the stars it becomes truly magical.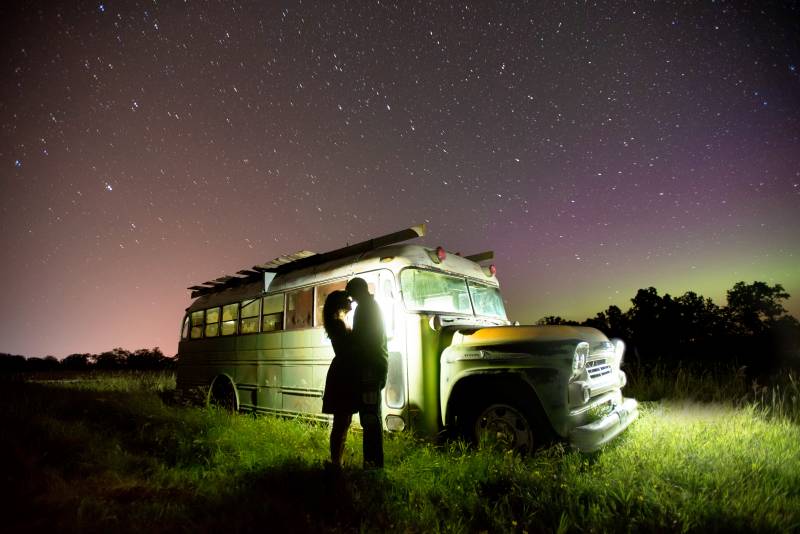 Megan Sugden has had a successful portrait and wedding photography business for over ten years. Recently she fell in love with capturing the beauty of the night sky, especially the northern lights. One summer night she had an engagement session scheduled when there was a high chance for northern lights. She asked the couple if they were willing to stay later into the night to potentially get a glimpse. They happily agreed. After hours of waiting and no lights, they were about to leave without the shot. Then, just before packing up, the lights exploded and danced through the sky. The combination of nightscape photography and the love captured in an engagement session yielded truly magical results.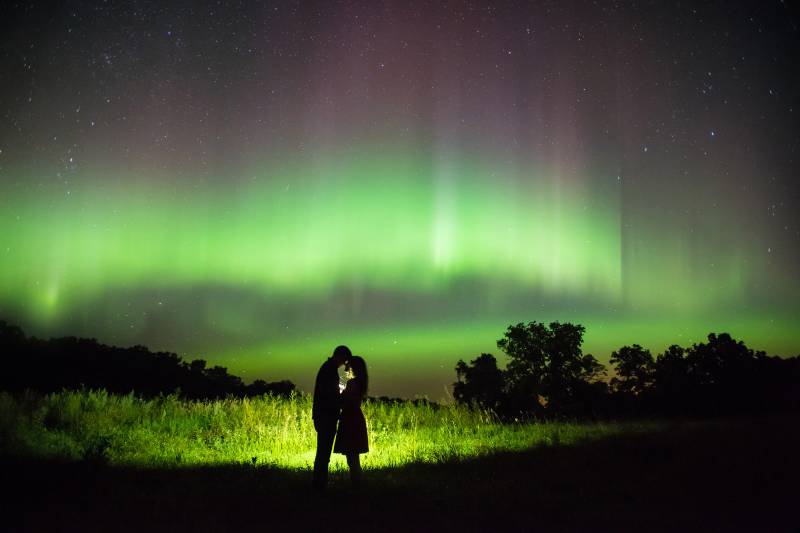 GET THE LOOK
Capturing truly unique photos such as these is no easy task and for most brides, a near impossibility. Luckily northern Minnesota boasts some of the purest dark viewing spots in the United States, so here are some tips if you would like to capture similar shots.
1. Nightscape photography is an art in itself. Find a photographer with the experience and equipment to beautifully capture the magic of the night sky.
2. Be patient. Technology is improving but the aurora borealis can still be difficult to predict. Watch the forecasts, wait for a clear night, and be prepared to stay up late. The best times to see the northern lights are often between 9 p.m. - 4 a.m.
3. Look to the north. The best locations to capture the northern lights have a flat and open view to the north.
4. Don't be afraid to try something completely different. It's worth it!
Meet the Expert
Photos by: Megan Sugden, an award-winning photographer from Hallock, MN whose work has been featured in many publications including National Geographic. Her popular Northern Lights Series which includes beautiful images of local churches, farms, and homesteads set against a stunning background of northern lights and the Milky Way has gained national recognition.To view more of her work, visit www.meganphoto.com or www.kittsoncountyskies.com