By Raechel Schwarze, KD Floral & Gardens
Photography by Samantha Whillock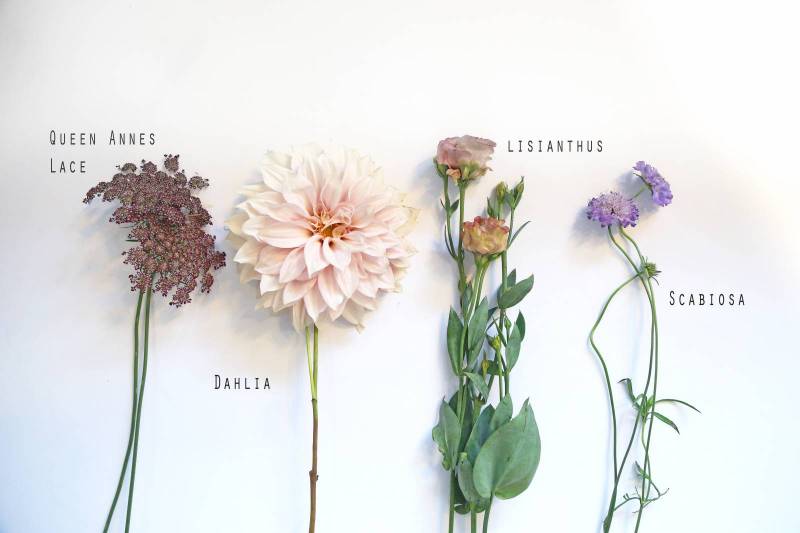 Local flower season is upon us and just as a cup of cocoa never tastes as good on a July day as it does in the brisk December air, a peony, although always beautiful, will never have the lusciousness and intensity that it does when freshly bloomed in June. Knowing these stems will only be here a short while makes each one all the more special.
Local flowers are seeing a rise in use. These flowers are fresher and are more sustainable. Using local blooms means you are participating in a more environmentally friendly process, incorporating your local nature into your big day and helping to support the community around you. For florists, having access to local flora gives us the opportunities to use something that is so fresh and full of life. Often cut the day of use, the quality is unparalleled. The ever-popular Café au Lait dahlia is stunning and remains a favorite among brides and florists alike. Sadly, once it has been flown from California to the Midwest and shipped in a truck out of water it often arrives at our store bruised, shredded, and destroyed. It becomes a bloom we are unable to use. By contrast, when a local flower farmer walks in the door with a bucket of perfectly petalled Café au Laits the joy is indescribable! Local flowers allow us to provide a beautifully stunning and unique bouquet to each bride. The farmers are just as smitten with each stem and the creative process of carefully crafting it into your bridal bouquet.
The best way to incorporate local flowers into your day is by letting nature do what it does best. When using local blooms, focus on a color palette and style rather than specific flowers. This allows the florist or yourself to choose blooms that are at their peak beauty on your wedding day. Particularly with color, using local blooms is an incredible asset. When we order from out of state we describe the desired hue but don't actually see the blooms until the day they arrive. When I can hand pick that dahlia from a local field or bucket I know I've chosen the perfect stem for my bride. Local flowers can bring out some of the shades that are difficult to describe and find. The trends of marsala, berry, and blush are often found hiding among others. Sometimes when our shop is filled with buckets of flowers you suddenly see a color or bloom that was not part of the original plan but fits so wonderfully into the bouquet in ways you could have never expressed or imagined until it was seen. I can recall many weeks where I had a set out plan for a wedding, only to have a flower farmer bring in a bucket with blooms that made me squeal with delight and change course, as they were too perfect to not be used for that weekend's wedding.
It's not only beautiful blooms that we are seeing from our flower farmers. We are also relying on our local growers for beautiful foliage and vines. These items are sometimes too fragile to travel in boxes from out of state growers, but when they arrive freshly cut that morning they are exquisite. Brides are seeing the beauty in these vines and foliage; "greenery" is a term we hear often. This is seen in the trend of garlands - long farmhouse tables draped with lush foliage and mantles or arbors dripping with vines and ferns.
All of these styles are a reflection of the movement of weddings towards the organic and wild style. It is a way of bringing the outdoors in. The foraged aesthetic goes hand in hand with local flowers, when you see flora and fauna indoors that remind you of your grandmother's garden or wildflower fields from your childhood it invokes a feeling of comfort and familiarity. And as the years pass, when you see clematis blooming in the garden you'll be reminded of the precious blooms from your wedding day.
Using local flowers does not come without challenges. How will I know what is in season? What colors will I have to choose from? Can I get peonies in August? These are all questions that your florist will be happy to help you with. More so than ever, choosing to use local blooms requires trust in the florist or flower farmer you are working with. Choose a vendor you trust with a style that appeals to you and they will have the experience to guide you through what will look amazing on your wedding day.
Trust in the beauty of the nature that surrounds you, and the beauty that you can recreate and grow in your own backyard to celebrate the love on your wedding day, every day.