Lisa and Joe's first date happened the same night as one of Minnesota's late summer rainstorms. You'd think with Joe being a meteorologist, he'd come prepared for the rain... instead he showed up to the restaurant soaking wet.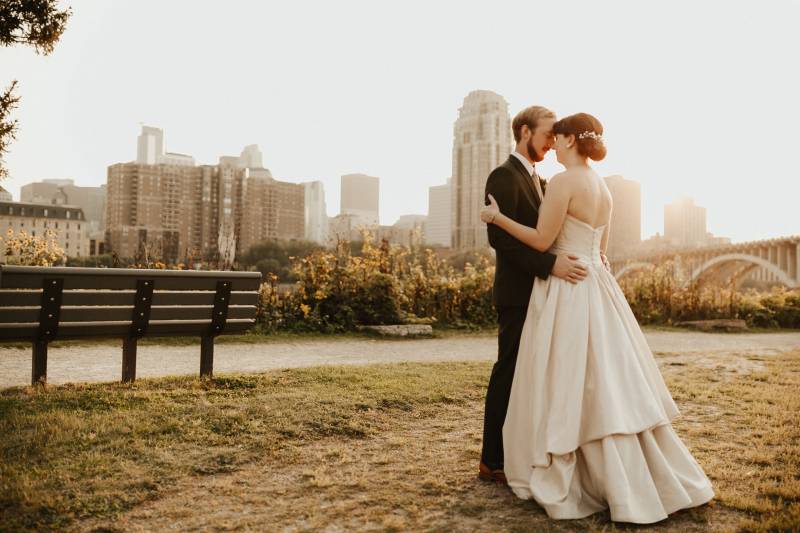 In Joe's words: "After catching one last glance at the radar as the storms approached that August evening, I set off for Uptown (Lisa was an 'Uptown Girl' and obviously I sang the song a few times) and tried to find parking before the storms reached that area. Unfortunately, Uptown parking is notoriously difficult, and I had to park several blocks away from our first meeting location. Naturally, I did not have an umbrella in the car and a light rain began to fall from the building storm clouds overhead. I quickly began walking down the block - then running down the following blocks - as the rain began to pour and soak me. I entered the restaurant, a completely humbled meteorologist, and tried my best to play it cool as I wrung out my best shirt in the bathroom."
Luckily for him, Lisa found it all very endearing, "After waiting a few minutes at the table, in walked Joe, dripping wet from the rainstorm. He stuck out his hand, said, 'Hey, I'm Joe. Do you mind if I go to the restroom and clean up?' I said, 'Yes, of course!' He was very charming, even soaking wet. Our conversation flowed easily, and our three hour date passed quickly." Plans for a second date were made and the rest as they say is history.
"We both had a moment early in our relationship where we knew we really liked each other and we each thought our relationship was destined to grow. However, our moments were different. Joe's moment was after our second date. As we walked back to the car from the restaurant where we had dinner, I wrapped my arm around his, and that was the moment he realized our relationship was special. My moment was during our third date. I remember not eating very much at dinner because I was laughing so much and having a great time. We walked from the restaurant to Minnehaha Falls, and I remember grabbing hands and hiking around the waterfall. We both knew early on that our relationship was something special, but we didn't say the words, 'I love you,' until four months later, when we were taking a staycation in downtown Minneapolis."
Joe travels for work and had spent three weeks on the West Coast. He always had a dream of getting on "The Price is Right," so he stayed a few days longer in LA after business to attend a taping. After a rushed morning of getting stuck in LA traffic finding parking, grabbing the wrong ticket, and running back to the car to get the right ticket, he made it to the taping. After filling out paperwork, meeting the producer (where he told them he was there to make it rain!), he was actually chosen to participate in the show. He called Lisa afterwards and told her he got on the show and won something, but wouldn't tell her what he won.
Months later, they planned to watch the episode together when it aired. "We sat down to watch the episode and round after round someone else would win," said Lisa. "It was finally Joe's last chance so I knew whatever came on the screen he won. The announcer said, 'A beautiful woman with a beautiful piece of jewelry.' On the screen walked a 1/2 carat diamond engagement ring. Joe paused the TV and proposed. I of course said yes and was in shock. He wanted to give me something when he proposed, so he gave me a Ring Pop. The engagement ring arrived in the mail just two weeks later."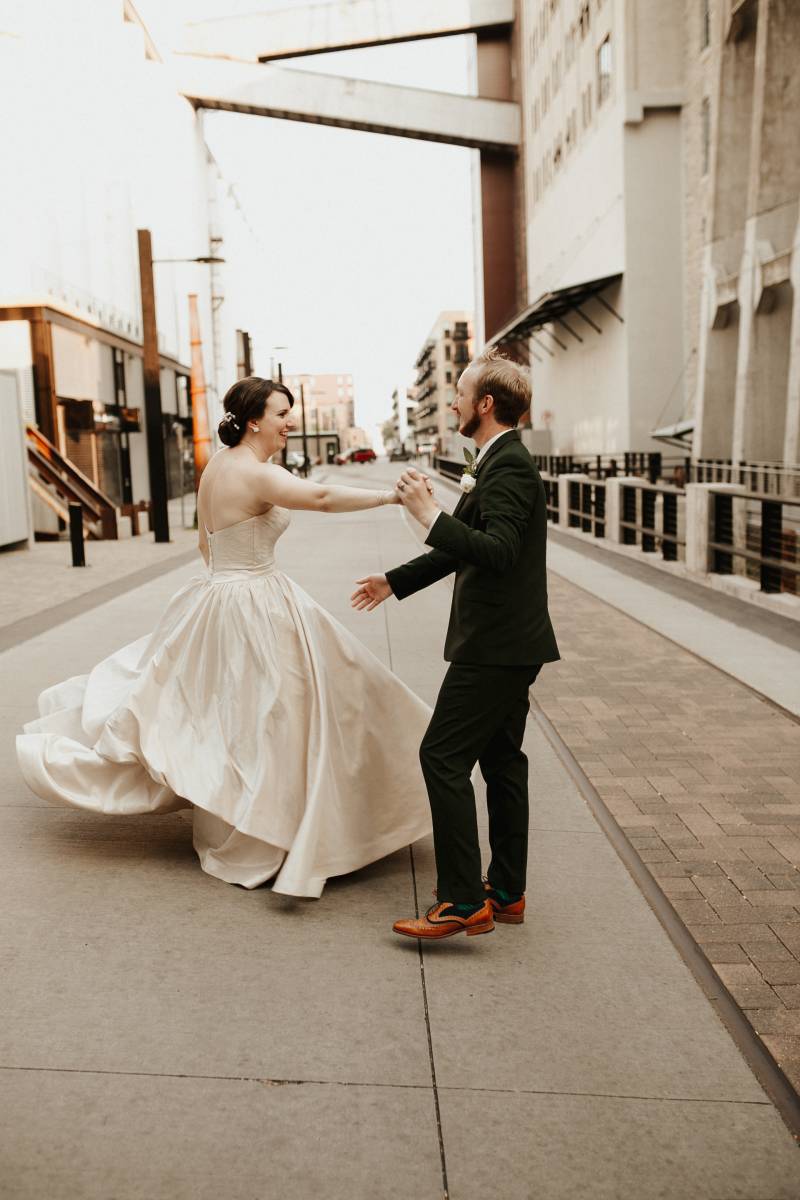 They planned their wedding at The Machine Shop in Minneapolis, and incorporated many DIY elements to make the event unique to them. Lisa made all of the signage, Joe's cousin made a crocheted hashtag sign for their place card table, and Lisa's coworker helped to customize her cathedral length veil with pieces of leaf-shaped fabrics to coordinate with the greenery theme that ran through their décor and florals.
They also incorporated their unique proposal story into their wedding day by playing "The Price is Right" theme song as their grand entrance music, and their DJ announced them by saying, "Mr. and Mrs. Halvorson, come on down!!!" From Lisa and Joe: "It was definitely a highlight of our day."
They've modified a common piece of marriage advice to work for them. Instead of "never go to bed angry," they make sure to never go to bed without saying, "I love you." "Sometimes if you've had a stressful day or a disagreement, taking time to calm down is helpful so you don't say something you regret or isn't helpful in the situation. However, at the end of the day, never go to bed without letting your spouse know you love them."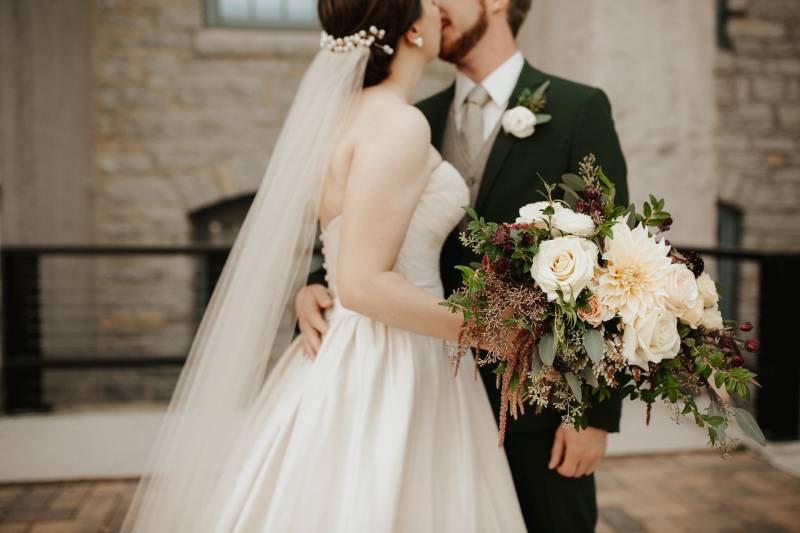 Featured Vendors:
Photography | Ester Knowlen Photography
Ceremony & Reception Venue | Machine Shop
Groom's Vest/Tie & Groomsmen's Suits | Men's Wearhouse


Other vendors: Felicia Kohlhagen from Florology, Our Shop, Allure Bridal - Romance Collection, Asos, Barker in London, Bre Ward from Bre Is Fun!
At Lake Bride Magazine, we strive to continually inspire you and your ideal "I Do's" by featuring a collection of beautiful inspiration, the best local resources, the latest trends, and practical planning tips for your special day. Reserve your issue HERE.