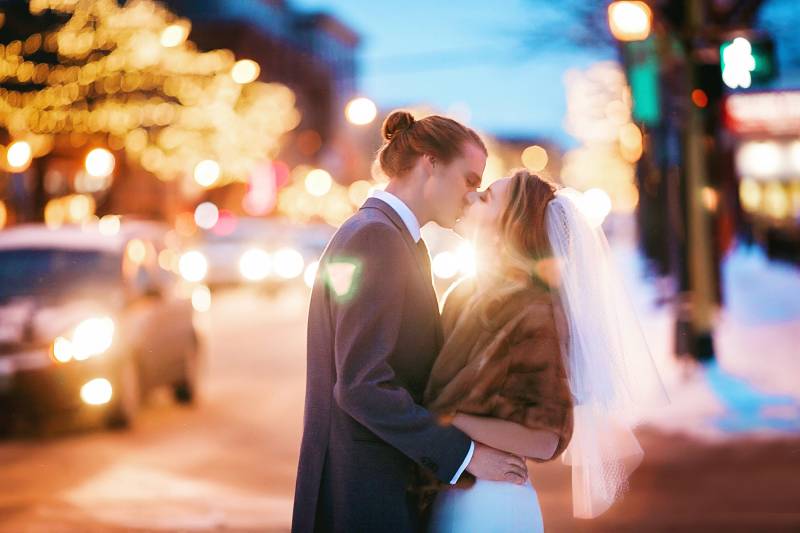 Linnea and Robin met through mutual friends in 2015 and instantly hit it off. Robin was running in a collegiate track meet at Linnea's college, and they spent the weekend hanging out with friends and getting to know each other and quickly realized that there was a connection. After that weekend, texting led to calling and Skyping, which led to the beginning of a long distance relationship.
In May of 2017, Robin (who was done with finals) surprised Linnea at her school during her very stressful finals week. The shock of him showing up outside of her department building caused her to break down and sob, and exclaim, "You better not be here to propose because I just can't handle that right now!" Robin, intending to propose, thought he had better wait until the morning, which also happened to be his birthday. Before Linnea's class, she wanted him to open up his birthday gifts, and Robin brought an early anniversary gift with him. It was a recipe journal because they loved to cook together. Inside, a hole was cut out and a ring was inside of it. Linnea opened the book in such a way that the ring fell out! Robin quickly grabbed it and got down on one knee to propose.
They got married at a church in Minneapolis on Linnea's paternal grandparents' 60th wedding anniversary, and celebrated at Lakes and Legends Brewing Co. with their friends and family. During their ceremony, they had planned to light a unity candle - the same candle that Linnea's parents used in their wedding 27 years earlier. The candle was never checked before the ceremony and when it came time to light it using new candlesticks, the unity candle would not light. The candlesticks flooded the already short wick area of the unity candle with wax, preventing anything from lighting. The pastor was quick to take action and whipped out a pocket knife to carve away the wick area which allowed for the candle to light for about two seconds, which according to Linnea and Robin "was good enough!"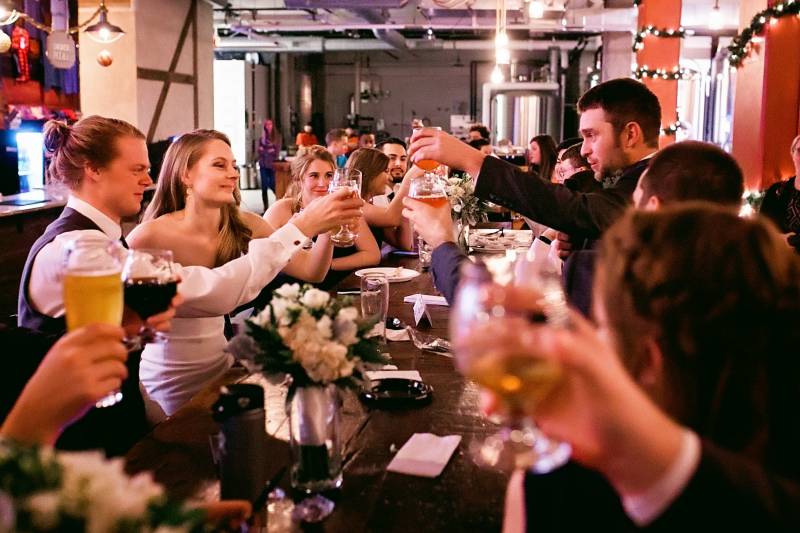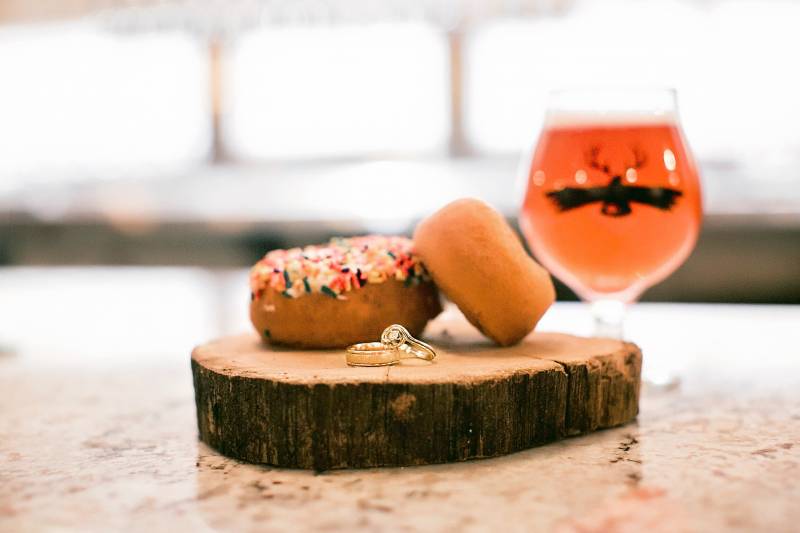 Linnea followed the old adage of "Something Old, Something New, Something Borrowed and Something Blue." She wore a pair of rose gold Swarovski crystal chandelier earrings (something new), and a gold and diamond interlocking circle ring (something borrowed from her mom). She carried a bouquet of dahlias, ranunculus, hydrangea, and freesia that was wrapped with a 100+-year-old embroidered handkerchief (something old) from her paternal great-grandmother, with a blue silk ribbon sewn to it (something blue). This handkerchief has been carried in some way by every granddaughter or grandson's bride on Linnea's side of the family. The couple shared their first dance with Linnea's grandparents to honor them on their 60th anniversary.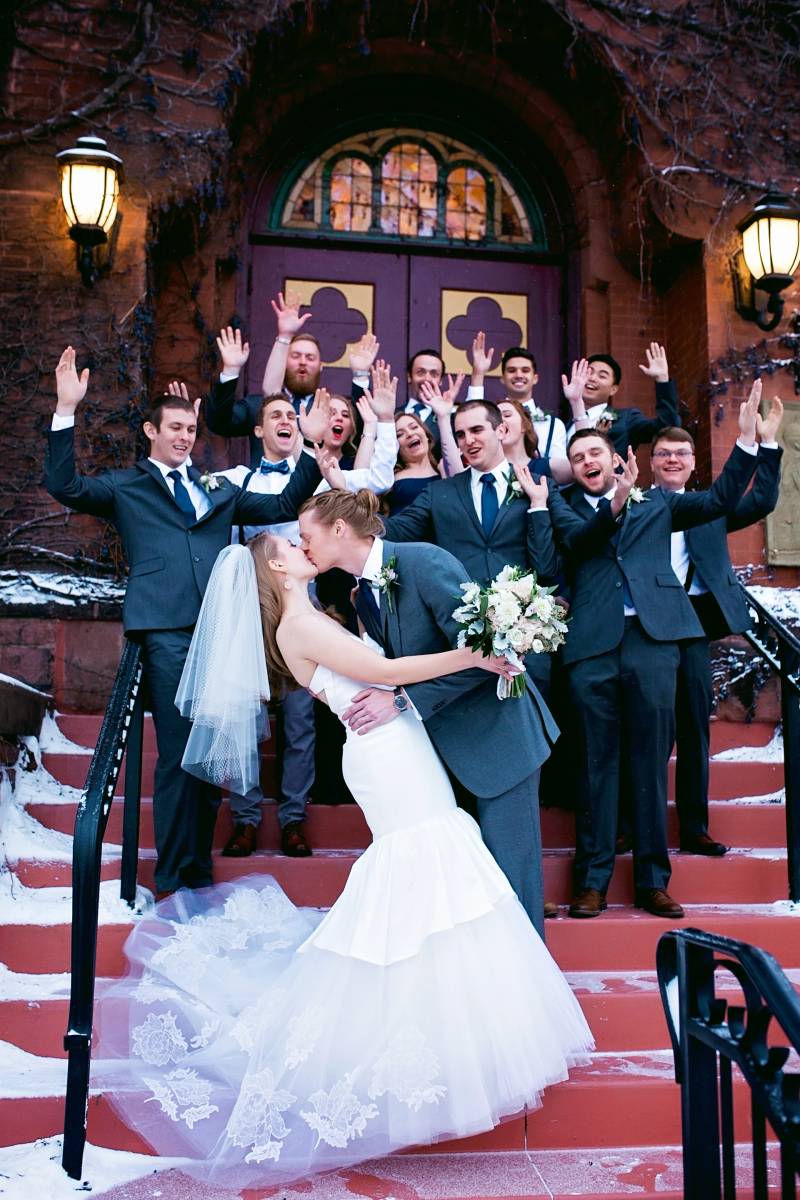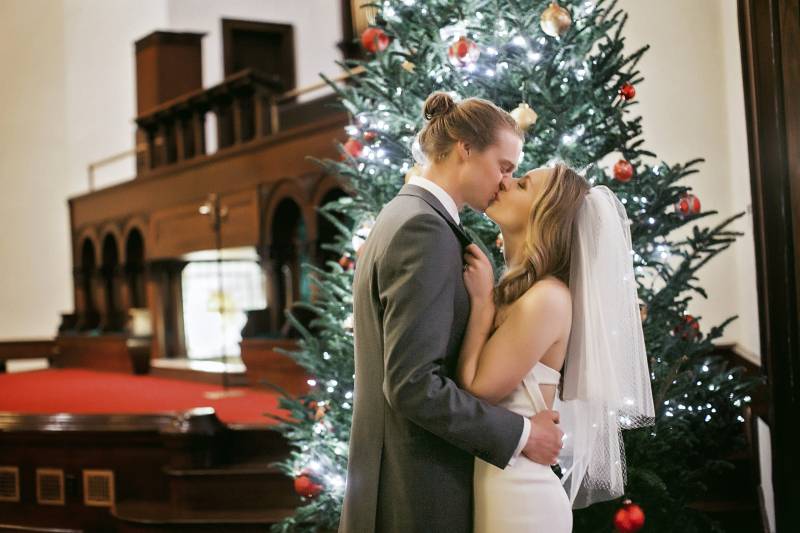 Photography: New Life Photography
Reception Venue: Lakes and Legends Brewing Co.
Florist: Chez Bloom
Bridal Gown Shop: Posh Rack
Bridal Gown Designer: Vera Wang "Petra Dress"
Bridesmaids' Attire: David's Bridal ("White" by Vera Wang)
Groom's and Groomsmen's Attire: Jos. A. Bank
Ties: Men's Warehouse
Bride's Ring: created by Garwood's Jewelers in Fort Collins, CO
Groom's Ring: Salmela Jewelers Inc.
Food: Boca Chica Restaurante
Donuts: Old Fashioned Donut Shoppe
Candy: Albanese Candy
Hair: Level Salon (Kate Sweeno)
Accommodations: Hilton Minneapolis and Hampton Inn & Suites Minneapolis Downtown