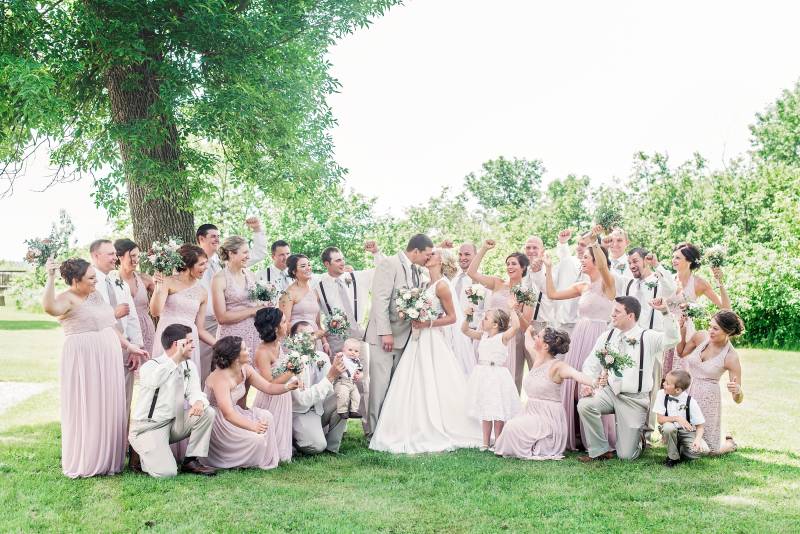 Cody and I were set up by mutual friends in 2012. We first met at Foley Fun Days and have been inseparable since. For years I wanted Cody to take me ice skating and finally, on the coldest day in January 2015, he did. Cody was afraid he wouldn't be good on skates, as he had never skated before so I felt terrible when he took a hard fall and wasn't getting up. I skated to his side to help him when he got up on one knee and popped the question. When we happily shared the news with Cody's parents we learned this same lake, Lake George, is where Cody's dad proposed years before!
The first question we received from everyone was, "When is the wedding?" I had always wanted a fall wedding but for some reason June came to mind first. When I chose a possible date in June there was once again a moment of kismet, Cody's mom said, "That's our anniversary!" So on Cody's parent's 33rd anniversary we also said "I do." We had been attending New Life Church and decided to have our ceremony there. One small issue was that the church hadn't been built yet. But we had faith. They broke ground that spring and we were honored to be the first marriage performed there. During the building process we wrote our wedding date and a bible verse on the studs of the church walls.
We intended on having a small wedding because neither Cody nor I are fond of large crowds or attention. However, I am the youngest of 12 children and both of my parents come from large families so our guest list quickly grew to over 400 people. We also originally planned to have it in a traditional ballroom but that didn't seem like us. Instead, we chose to have it at the Lakeview Center at Benton Beach where the reception could be outdoors. We hosted the dinner in a large tent and the DJ and bar were on the deck. Being able to include all our family and friends on our big day in a relaxing atmosphere with outdoor music, sunshine, yard games, and an open bar is all we ever wanted. It brings tears to my eyes to reminisce because it was perfect.
ADVICE TO ENGAGED COUPLES:
Hire a photographer who's previous work you admire and who you are comfortable with because when it is all over your pictures are all you have to remember the day. It all goes so quickly. To me the day was a big blur and I appreciate the photos so much.
ADVICE FOR OUTDOOR WEDDINGS:
Don't be afraid of the weather forecast. Our wedding day forecast was calling for an 80% chance of thunderstorms that caused me to panic. I decided to accept it for whatever it was going to be because I knew the next day I was going to marry my best friend and that was all that mattered. The bonus...it turned out to be clear skies and 80 degrees!