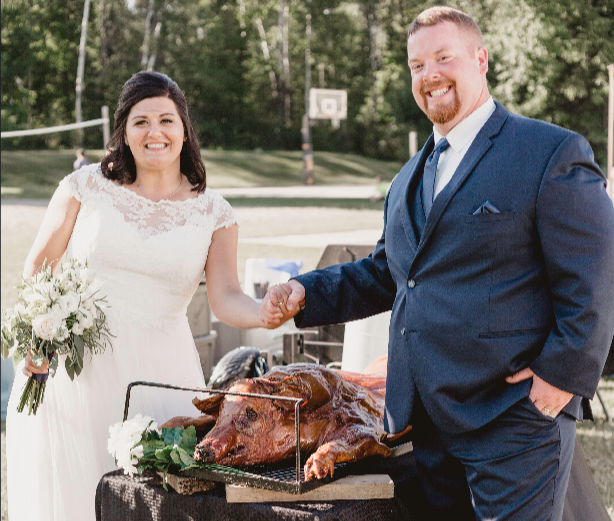 Pig roasts at a luau or backyard shindig? Sure thing! But a hog gracing the presence of a wedding reception? NO WAY. That is, until now. Throw out your preconceived ideas about pig roasts; having a heavenly hog at your wedding is not only an amusing and exciting topic of conversation, but can be included as an elegant addition to your overall wedding atmosphere. Caterers offering a full pig display are aware of the traditional stigma that comes with pig roasts, so extraordinary consideration is taken to boost the ambiance from country-bumpkin to rustic-chic.
Scratch the red and white-checkered table covers and imagine crisp white linens, patina baskets, and carefully curated décor to enhance the spread. The Saucy Sow has become particularly thoughtful about how the "guest of honor" can enrich the elegance of a marriage celebration--No more apples for the pig's snout... instead a beautiful splay of flowers will adorn the crown of the beastly main course. Pig roasts have evolved; the idea that they are an acceptable option for informal events only has transformed into a specialized, innovative,and sophisticated alternative to traditional catering choices that will complement any couples desire for matrimony merriment.
Husband and wife team, Caleb and Amber, have a knack for roasting, catering, and having a great time.
Completely mobile and travel ready they roast on-site and deliver dinner to you.
715.338.3650