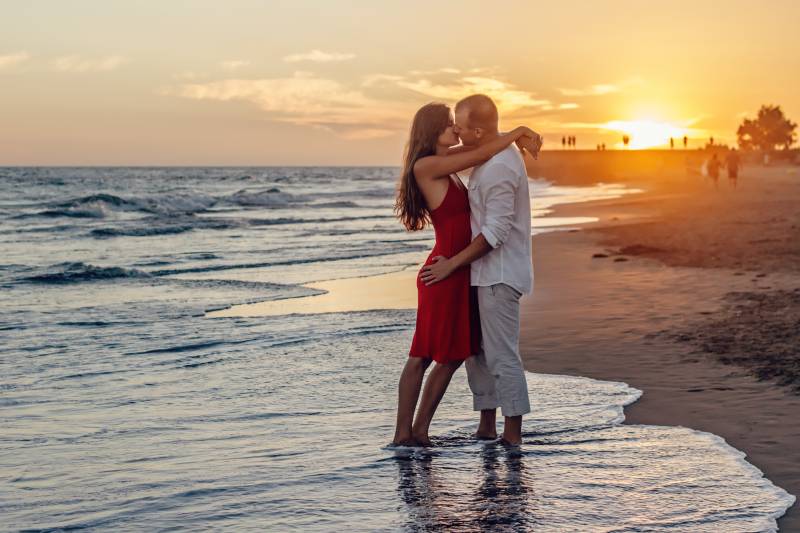 1. When should we book?
In the midst of to-do lists, parties, and DIY projects, why add more to your plate? Book your honeymoon early to alleviate some of the stress as your wedding date draws near and to have something to look forward to! Airfare pricing is often available 330 days in advance and most resorts will book even further out. Take advantage of early-bird deals and spread the costs over a few months.
2. How can we stay within budget?
Before you begin planning have a discussion as a couple about what kind of trip you want to take. Once you have an idea, don't add stress by planning something that isn't within your means. Be realistic about what you want to spend and prioritize the experiences you want to want to share. Many couples today get married later in life and may have the traditional kitchenware and bedding they need. In this case, a honeymoon registry can be a great way to boost your travel budget. Guests have the option of contributing cash or selecting specific gifts such as excursions, breakfast in bed, spa treatments, candlelit dinners, or champagne. Which let's face it, is more fun for you and the guest than a blender! A few sites to checkout: Honeyfund, Wanderable, or Honeymoon Wishes. Lastly, working with a travel specialist can give you access to deals and packages not available to the public. They will also have great advice for destinations that fit within your budget.
3. Should we tell people we are on our honeymoon?
The short answer, yes! Everyone should know that this is a special occasion. A lot of suppliers offer honeymoon perks and VIP treatment such as a bottle of champagne or an upgrade in room category. Most likely you won't need to bring your marriage license to receive honeymoon extras, but we always recommend bringing a copy of it just in case you have an emergency (e.g., name-change issues, medical emergencies, etc.) and need proof of your marriage.
4. What name should the bride use on the reservations?
If the bride is changing her last name it is important to remember that the name on the plane ticket and ID must match. If you are leaving immediately following your wedding the plane ticket should be issued in your maiden name. If your trip is scheduled after you've changed all your identification documents, including your drivers license and passport, then use your married name.
5. Should we book excursions in advance or wait until we arrive?
It's best if you can book your must-do activities in advance to ensure there is space available.Also, consider leaving the more adventurous for the end of the trip allowing you time to relax and unwind when you first arrive. If you do book your excursions after you arrive, make sure to use a Destination Management Company that are set up at your property to avoid scams or overcharging.
Meet the Expert
Emily Kladivo is the owner of Emily's Travel and has a passion for helping clients plan their dream vacations, honeymoons, and destination weddings. Working with a travel specialist will not only help you with choosing a destination but also the activities, dining, tours, and sightseeing opportunities you might enjoy while there. Emily and her team are eager to assist you with your travel goals. Find them at www.emilystravelmn.com on Facebook @emilystravelmn or on Instagram and Snapchat.