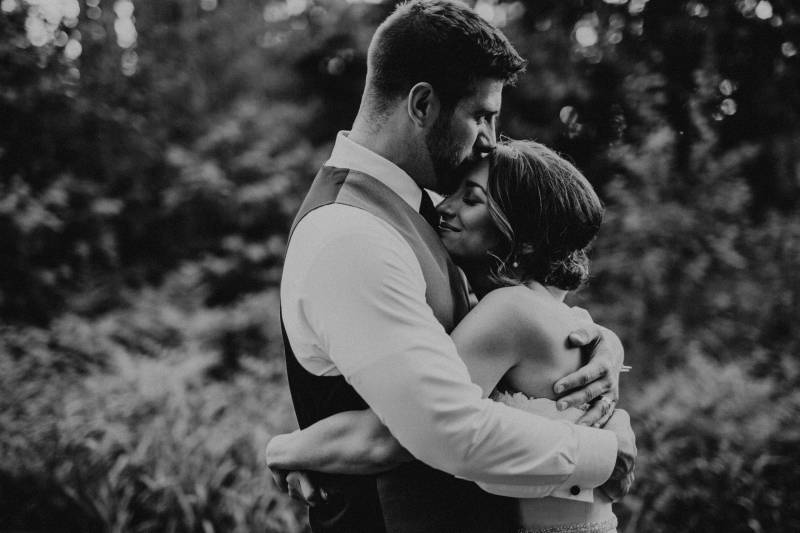 HOW I MET MY OWN AARON RODGERS
Well, for the record, as he's for sure going to want me to clarify - Brian is a VIKINGS fan! When we first started dating, most of my friends and family called him Aaron or A Rodg in conversations with me. If I ever mentioned "Brian," I'd get a bunch of blank stares back until I could clarify "Aaron" -- then they'd catch on to who I was talking about. We couldn't go anywhere without getting stopped on the streets by people yelling out, "Hey! You're on my Fantasy team!" or "You look JUST like Aaron Rodgers!" Brian would get embarrassed by all the attention, but I got a kick out of all of the "discount double-check" jokes at Christmas (especially with my uncle owning his own State Farm office!!). When we met I wasn't looking for love. I wasn't really interested in dating. I NEVER thought I'd get married or fall in love. And then things happened. I knew right away he was the one. We didn't intentionally rush things, it was just our pace - a year in we got engaged, we bought a house together two months later, and four months after that we were married. It's been a whirlwind, but I wouldn't change a thing!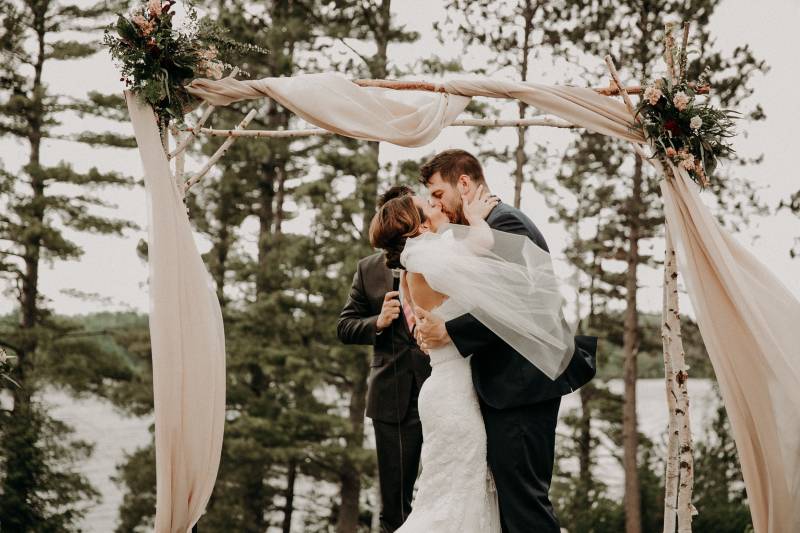 THE CINDERELLA STORY
When I was about four years old, back in April of 1993 (best guess), my Uncle Chris (who is also my godfather) wanted to take me on a little godfather/goddaughter date. Seeking out what would be a fun experience for a little girl, he decided to take me to the Cinderella play at the Guthrie Theater in Minneapolis. My mom dressed me up in princess attire - the dress, tiara, wand, and plastic "glass" slippers - the whole works, and dropped me off at my un- cle's. We went to the theater and were seated on the upper level, front and center on the bal- cony. Apparently they were GREAT seats. Chris said about half way through the show I started to get restless and realized that I had lost my "glass" shoe. I had been dangling my feet over the balcony (really lady like) and it must have slipped off. We searched everywhere - upstairs, downstairs, even involved the theater usher to help us find it, and eventually I started to get upset and sad about losing my princess shoe. Chris could tell he was losing me and needed to save the situation quick! Luckily he had always been quick on his feet and known for his storytelling... He told me the Cinderella story that I half-missed pre-occupied by the loss of the shoe. He said I might have lost my shoe, but just like Cinderella someday Prince Charming would bring it to me and sweep me off my feet. He said my jaw dropped and I got suuuuppper excited that I could be like Cinderella! And just like that I was fine and said, "OK, let's go!!" He carried me to the car (since I was shoeless) and Prince Charming is all I could talk about the entire drive home. Since then, throughout my childhood, this story would come up - I would still ask if he thought Prince Charming was really coming. It's always been a fun and fond memory of mine with my Uncle Chris.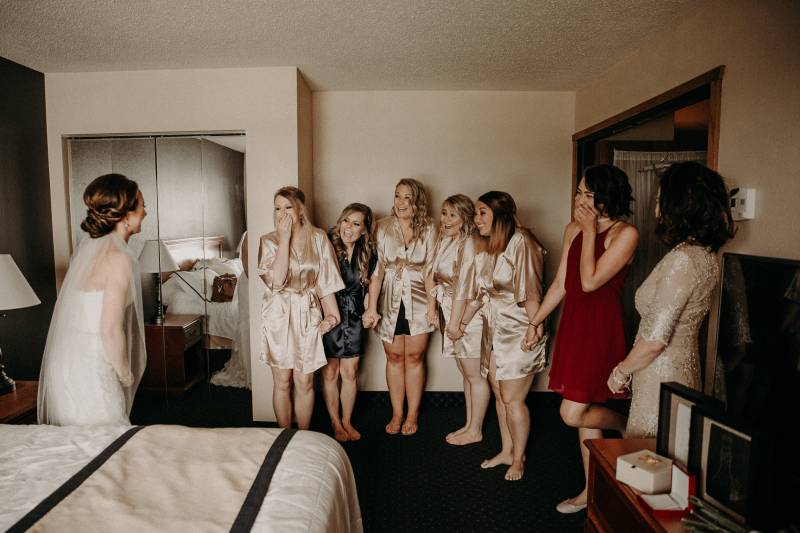 The story was just a fond childhood memory, and I had no idea that my uncle and Brian had a little something planned for the reception. When Chris asked if he could speak at the dinner, I didn't think much of it. After all, he was also our officiant (and did a fantastic job, I might add!!!). The day before the wedding I wrote him a card thanking him for officiat- ing our wedding, and as I wrote I thought to myself, "How funny that here we are and HE is the one to marry me to my Prince Charming."
When he started speaking at the reception and brought up the Cinderella story from my childhood, I thought to myself, "Awwwww,
I was just thinking about this memory!" but when Brian pulled out the silk pillow with the real-size glass slipper on it, I NEVER saw it coming! Seriously amazing! I was so floored!! It was perfect! And it was just like my uncle to end the story with publicly thanking Brian for "taking all the pressure off him" as Prince Charming. So priceless. These two are the very best!!!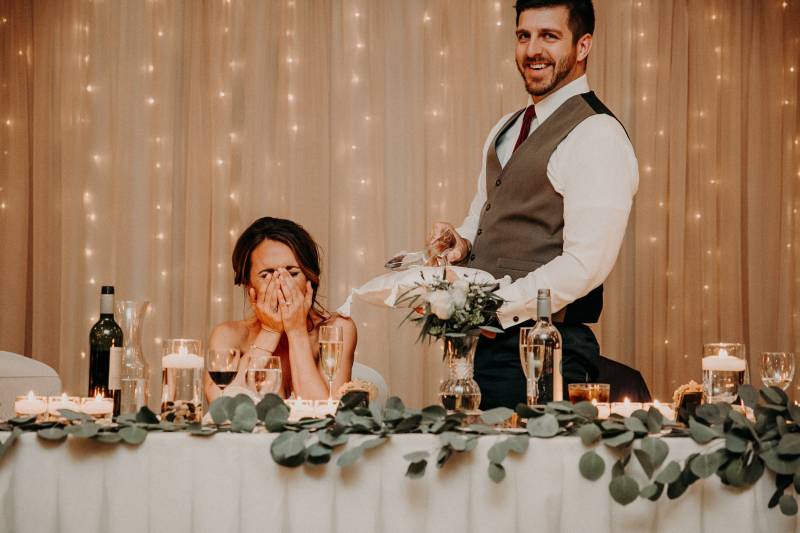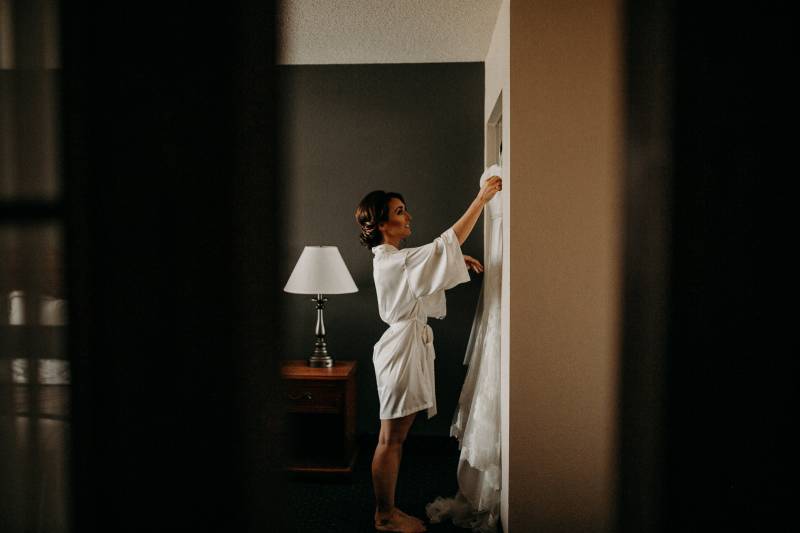 GETTING MARRIED AT OUR FAMILY PROPERTY ON LAKE VERMILION
Wedding planning is not my forte. This was not something I was excited about. Neither was Brian. We considered a tropical getaway, whisking away and tying the knot somewhere warm. There was only one problem with that plan. Neither of us is very "tropical" in nature. We are much more of the "woodsy, outdoors, Northwoods" type, especially given our fond memories of a certain fishing trip to Canada, which is where we really fell in love. The more we got into planning our tropical destination wedding, the less excited we were about it, also realizing how many dear- to-us people wouldn't be able to make it due to the logistics. That was that! We started looking into a wedding in Minneso- ta. It was a windy road of looking into various venues that lead us right back... home. We had no attachment to any of the beautiful and intimate places we were looking at, and it wasn't until we considered getting married in the family property backyard that things just clicked into place. Lake Vermilion and this property has meant so much to me, coming here all of my childhood. And after Brian entered the picture, coming on several family trips, talking about cabin plans with my dad, this place started meaning a lot to Brian as well.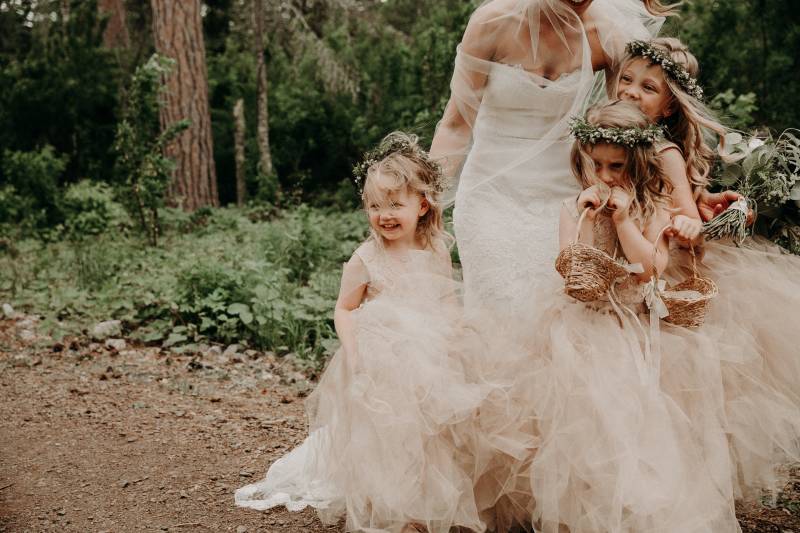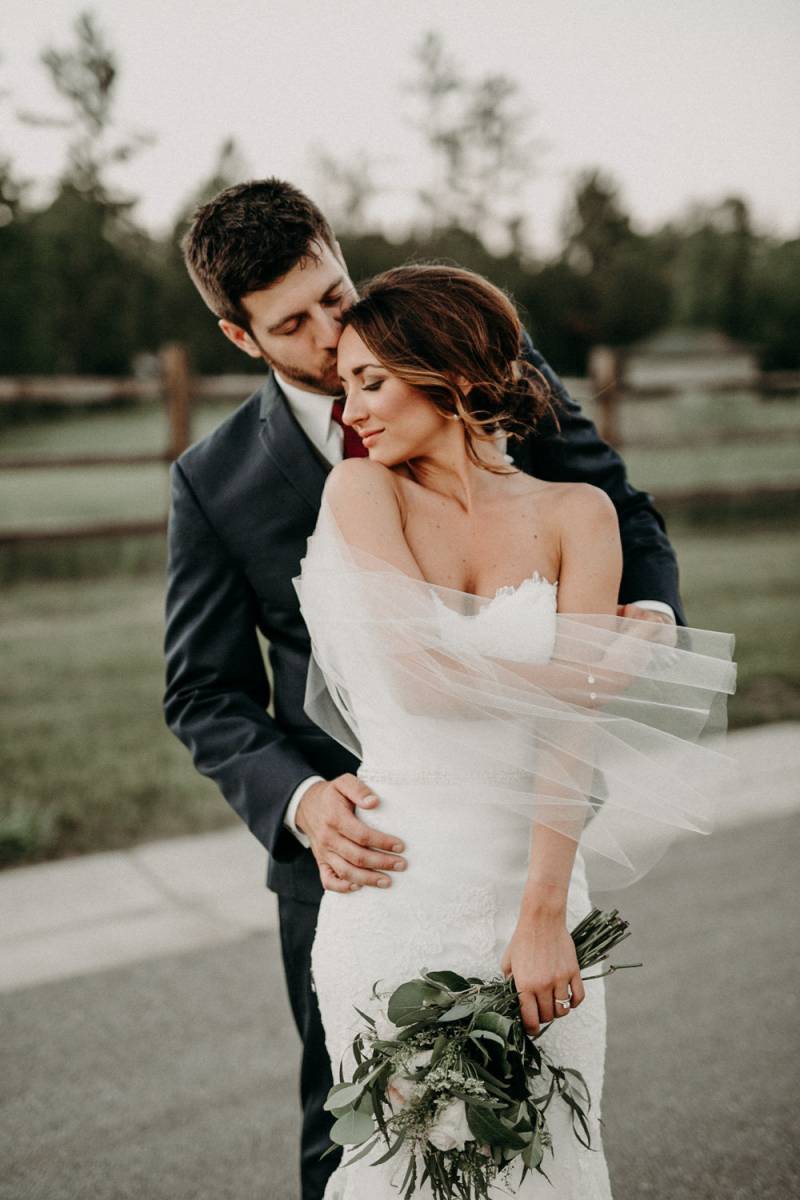 Once we came up with the idea to have the wedding at a place we called home, among the pine trees that would be here for years to come as we live our lives together, nothing else compared. We kept things small, inviting and involving only the closest family and friends - with my uncle as officiant, Brian's sister singing, etc. Despite the time crunch and the wedding nowbeing more of the DIY variety, the six month planning process went surprisingly well. We totally lucked out with all of our vendors - snagged ourselves an uber talented photographer ;), a super fun DJ, and with Tower being a small community all the local vendors (décor, floral, reception venue, etc.) know each other well and they were all amazing to work with! Fun fact: my decorator (Kim Ollila) from Bridal Family Decorating, was a godsend!!! Within an hour of our first meeting I started calling her my "Fairy Godmother." A little ironic looking back at the whole glass-slipper reception surprise!
THE MOST SPECIAL MOMENT OF THE CEREMONY: THE BALD EAGLE
This day was truly amazing and so special to us. Getting married where we did, all the people that helped, keeping things small and intimate, it made for the most amazing day. Still, with as awesome as this day was, one thing gives me goose- bumps and makes me tear up. The bald eagle. It was perched on one of the trees near the lake while I was saying my vows to Brian. See, I pretty much grew up on Lake Vermilion. Most of my dad's side had cabins there as well as both sets of grandparents. My Grandpa "Gordy" Debe (dad's stepdad) passed away about 13 years ago, and ever since then whenever we see a bald eagle on the lake we say, "look it's Grandpa!" It's our symbol for him and a way to still remember and feel connected to him. So when one of our family members told me that they saw the bald eagle the day of our ceremony, I couldn't help but get happy tears knowing my Gramps made it to my big day as well.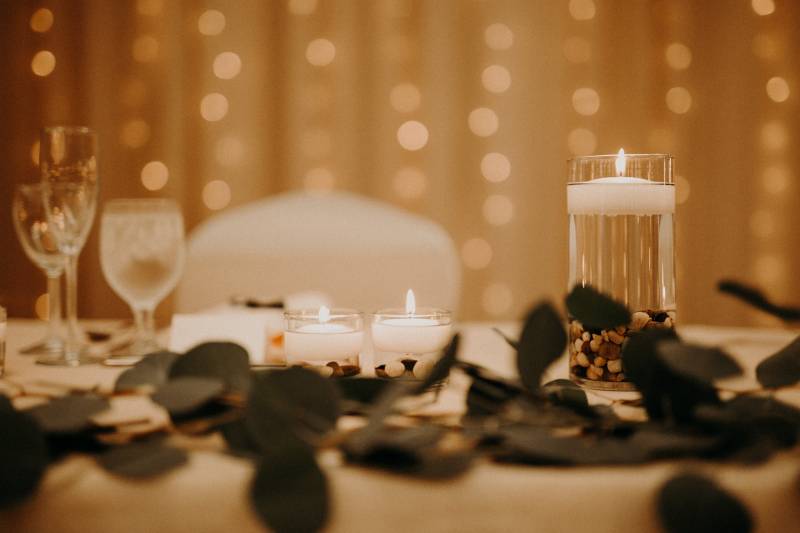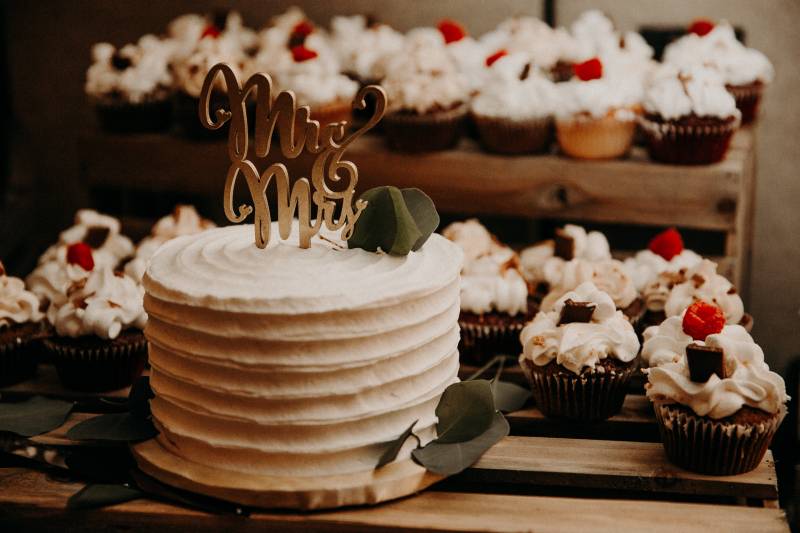 Photography: Ester Knowlen Photography
Venue: Fortune Bay Resort and Casino - Woodlands Ballroom
Florist: Silver Lake Floral
Bridal Gown: Posh Bridal
Bridal Gown Designer: Oliva by Modeca
Groom's and Groomsmen's Attire: The Wedding Shoppe
Caterer: Fortune Bay Resort and Casino
Cakes and Cupcakes: How Sweet It Is
Chair Rentals: Rudy's Event Rentals
Hair: Personal Attendant/Friend - Cassi Dick
Lash Extensions: Lashes by Anna