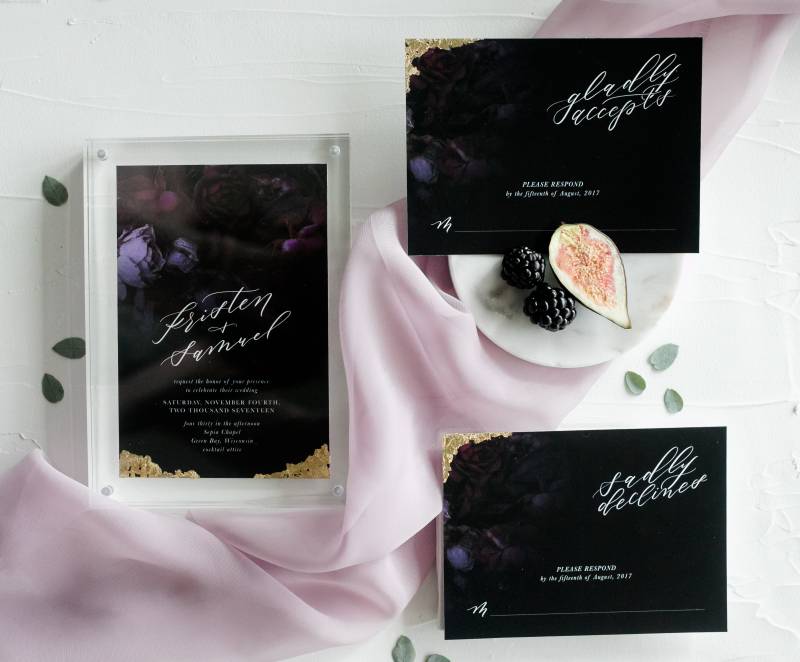 Now more than ever, wedding stationery designers and brides alike are thinking outside of the box and pushing the limits with paper items and their overall wedding theme.
By using a variety of techniques, mediums, and treasured heirlooms, paper elements are being transformed into timeless keepsakes. Designers are creating pieces with raw edges, organic calligraphy, and are not afraid to manipulate the actual papers themselves. As seen here, gold leaf pieces are meticulously applied throughout the collection for a rich "wow" factor. Beyond the calligraphy and the papers themselves, the use of non-traditional items is becoming prevalent, such as acrylic or glass. Here, the invitation is pressed between a thick glass floating frame preserving this moment forever. Another unconventional part of the invitation collection is the idea of including two separate response cards, a "gladly accepts" RSVP card and a "sadly declines" RSVP card. Brides especially love this idea since it makes organizing their RSVPs much more streamlined. To complete the intimate celebration, couples are choosing a farm-to-table experience for their guests. Carefully selecting entrees and desserts creates a perfectly coordinated theme. As shown, fresh assorted berries are beautifully displayed on each plate showcasing the charm of farm-to-table. Not only does this make for a pretty place setting, but it also keeps guests content to sip and nibble while their main dish is being served.
Finally, there has been a shift from light, airy palettes to dark, bold wedding themes. Brides are embracing rich, moody color schemes that are full of romantic ambience with industrial flair. Pops of bright blooms, soft calligraphy, and linen textures lighten the edgy mood for a perfect balance between the two. The play between the dark tones and the accents of mixed metallics come together to create a striking and dramatic experience.
SPOT CALLIGRAPHY + STATIONERY DESIGN | Mint for Hue
PHOTOGRAPHY | Christy Janeczko Photography