Farm to Table Catering, a fresh take on your wedding day dinner
By Erin Haefele
Photos by Melanie Rice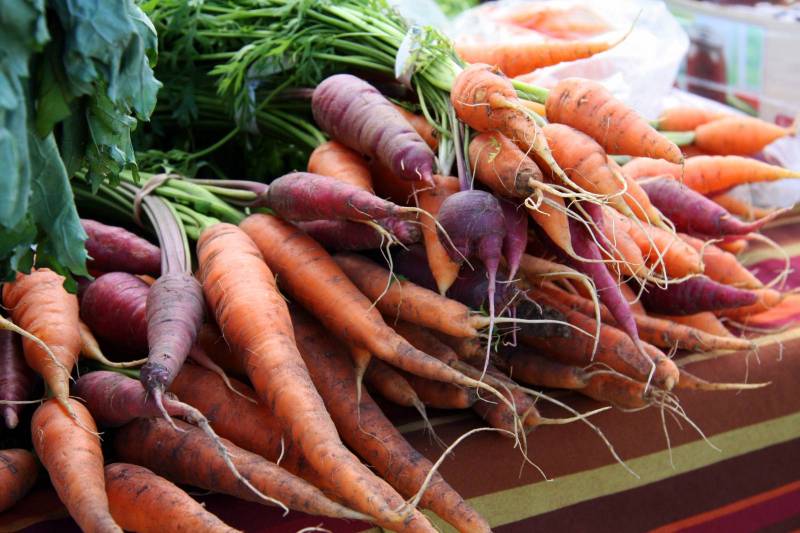 Anyone can take a frozen puck of chicken that has been injected with a salt solution, top with a white sauce made from a reconstituted powder, plop some frozen vegetables out of a bag, steam and serve. You and your guests will dine; it will be fine, because your wedding isn't really about the food, right? Maybe not, but it can be.
The farm-to-table movement is all the rage and it's here to stay. You may enjoy certain standards and values in your daily eating that you dream of providing to your loved ones on your wedding day. A crispy-skinned, roasted chicken accompanied by fresh, flavorful vegetables that showcase the vibrant colors and flavors. Your wedding meal doesn't have to be mediocre; with a little planning and the help of professionals it can be a vibrant culinary experience for you and your guests.
As the chef of a small farm-to-table grocery store and catering kitchen, my job is to turn wedding buffets into a feast worthy of the special day. I'm lucky to have inspiration so close at hand: the weekly farmer's market sprouts right next to my kitchen.
Those vine-ripened, red and green-striped heirloom tomatoes on my cutting board have never seen a loading dock, a plane, or even a cooler. They were picked by hand as the sun was setting the day before they landed at the farmers' market. The carrots arrive with the long green tops still attached and the Brussels sprouts are still on the stalk. Each week I stroll from table to table admiring the ever-growing variety of locally grown goods displayed by the farmers: delicate lettuces, bitter and peppery greens, long white and plump purple eggplants, squash in all shapes and sizes, ground cherries, and fresh garlic with or without the green tops. There is goat cheese, farm-fresh eggs, and coolers of fresh meats such as chicken, venison, lamb, and grass-fed beef. Vendors with maple syrup in varying colors, wild or cultivated mushrooms, wood-parched wild rice, breads baked in a wood-fired oven, fresh berries, and flowers. Heck, you can even buy an engagement ring from a master jeweler.
The farmers make my job easy. They spend countless hours planting, weeding, watering, and cultivating. You can taste the love. The farmer tells me about how he found the perfect melon variety for his soil, how he turns the melons while they are on the vine, and how he waits to pick them until they are just ripe; I know those melons are going to be good. I take one back to my kitchen and slice it open. The sweet floral fragrance fills my kitchen and I know I have found the fruit to go with my ginger-mint syrup.
I make my way to the honey gal. She has me taste three different bottles. The third bottle of honey tastes like peonies bathing in butterscotch. I know it will be perfect drizzled over a roasted beet salad with rye toasts slathered in goat cheese. I am making progress on this menu.
It wouldn't be a local menu without wild rice, one of our most prized local ingredients. I am not talking about the jet-black kind that's grown in paddies and cultivated by machine. I am talking about the rice that's harvested by hand; one person guiding through the aquatic grass and another person knocking the kernels into the canoe. Roasted-or "parched" as they say-over a wood fire, this wild rice is the real deal. It's nutty, slightly sweet, and earthy. I've served this wild rice on a breakfast buffet as a sweet porridge, a salad with almonds and cranberries, a classic creamy wild rice soup, or a simple pilaf side dish, but now I decide to turn it into our feature appetizer: Mini Wild Rice Cakes with Mushroom Tapenade and Chive Cream.
As I move through the market, the giant pile of green-topped, rainbow carrots pull me toward them. Another thing I've learned from the farmers: carrots didn't start out being orange. The first carrots were white, yellow, and purple. Through hybrids, politics, and a brilliant marketing plan the popularity of orange carrots was born. I am grateful to the farmers who have brought the original varieties back. These carrots will make the vegetable side dish glow on the buffet table.
Now it is time to select our protein. I come to the family that raises chickens at the next table. I've tasted their chickens before; it's how chicken used to, and should, taste. The white breast is darker than the store-bought kind, and it actually has flavor-it's not bland and begging to be doused in a sauce. Grilling this chicken with just salt and pepper would be delicious. I decide to buy every chicken they have. I'll marinate chicken before grilling, and though it doesn't need a sauce, my herb garden is flourishing so I'll finish with a drizzle of pesto made with chives, mint, and basil. I use every piece of these chickens, plucking out the livers to make another appetizer: Sherry-Shallot Liver Pate.
Knowing what is in season and having relationships with the farmers can shape a locally-grown inspired menu. If we meet with a couple in February and they want to have arugula on their menu, we can talk with the farmers as they are ordering the seeds for spring. We can request arugula in mid-June. If June arrives and the crop has been washed out by massive rains, the mizuna crop on the other side of the hill might be doing great. We tweak the menu to feature the mizuna. If fresh green beans are on your menu, and we see that the green beans are getting too large and tough, we will find something better. Trust your chef. Be open to change.
Chefs are chefs because they are passionate about food. I do what I do because feeding people is how I show love and respect. I am honored to prepare food that is nourishing for the body and the soul. Most chefs will put time into planning, tasting, and testing recipes. However, a chef preparing a fresh, local, custom-designed menu will do so much more. Since it takes more time to prepare items from scratch, bear in mind that it can cost more, but will certainly be worth it.
Great chefs care about the whole process of food from the seeds, to the farmer, to the dining table. Choosing farm-fresh foods will not only be reflected in the richness and fragrances of your wedding table, but your guests will thank you for a vibrant meal that leaves them feeling satisfied and fulfilled.
Meet the Expert
Erin Haefele is a chef and owner of The Green Scene Organic Market and Catering in Walker, MN. She also hosts the Walker Farmers' Market every Thursday during the summer on the grounds of her market.
Sample Farm-to-Table Wedding Menu
APPETIZERS
Mini Wild Rice cakes withMorel Mushroom Tapenade and Chive Cream
Featured Farmer: LeechLake Band of Ojibwe, Cass Lake, MN
Chicken Liver Pate withSherry & Shallots
Featured Farmers:Armstrong Acres, Backus, MN; Red Fern Gardens, Sebeka, MN
Deviled Eggs with Fresh PeaShoots
Featured Farmers: PRSEggs, Walker, MN; Denaes Shoots, Bemidji, MN
SALAD
Roasted Beet Salad, RyeToasts with Goat Cheese & Honey
Featured Farmers: MolnarGardens, Bemidji, MN; Stauffer's Honey, Blackduck, MN,
ENTREE
Herb Marinated, GrilledChicken with Mint-Basil-Chive Pesto
Featured Farmers:Armstrong Acres, Backus, MN; Green Scene Herb Garden, Walker, MN
Smashed Potatoes with Bacon& Garlic Gouda Cheese
Featured Farmers: HegeGardens, Bemidji, MN; Scandia Valley Dairy, Brainerd, MN; Fox Farms Pork,Browerville, MN
Roasted Carrots & GreenBeans with Lemon Brown Butter
Featured Farmers: MolnarGardens, Bemidji, MN
Charentais Melon withGinger Mint Drizzle
Featured Farmers: MolnarGardens, Bemidji, MN
DESSERT
Honey Blueberry Pie
Featured Farmers: Hand-pickedby the chef in the Chippewa National Forest, Walker, MN
Maple Cake with BrownButter Apples
Featured Farmers: FlyingM Maple Syrup, Walker, MN