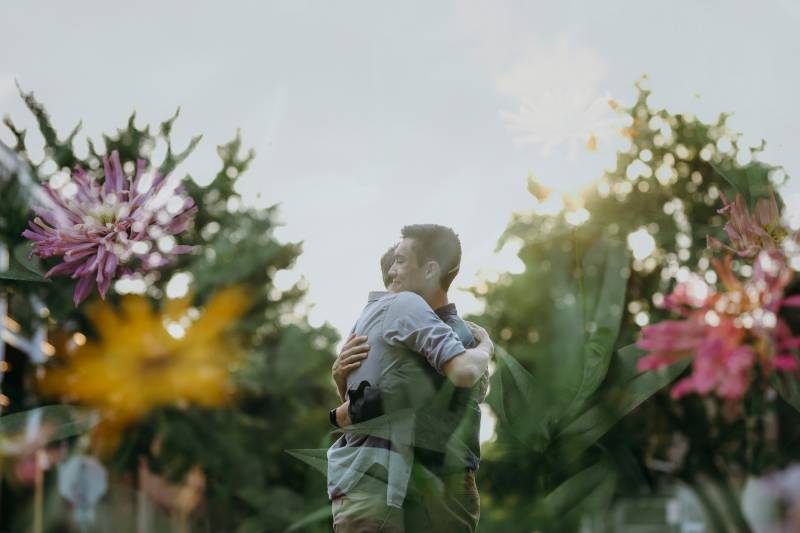 Ethan was raised in the Pacific Northwest and is now a resident physician with the US Navy. Anders grew up in Anoka, Minnesota and now works as a behavioral therapist for children with autism. They are frequently described by friends and family as 'hospitable to fault,' 'tragically uncoor-dinated dancers,' and 'borderline addicted to carbs.' Though they spent their first three years together in Minneapolis, they now reside in sunny Oceanside, California. Being gay has introduced unique challenges that other couples may not face, but Ethan says, "choosing to live our lives together was the easiest decision we have had to make."
"We met in March of 2015 on a dating app (yes, how very millennial of us) and had our first date at Spyhouse Coffee on Eat Street in Minneapolis. (In a twist of fate, we actually ended up living together in a studio apartment above Spyhouse Coffee two years later!) Despite Ethan being overwhelmed by upcoming medical school midterm exams the next day, our first date ended up lasting almost six hours and transitioned from coffee to pancakes. Spring became summer and we soon enjoyed bike rides around the lakes and camping trips to the North Shore together.
"Anders isn't much for surprises, so we planned our proposal trip together - we drove out to Rocky Mountain National Park in Colorado for a proposal hiking/camping trip, which sounded like a great idea in late May. Unfortunately for us, we picked the weekend of a massive spring snowstorm which resulted in us turning into human ice cubes in our tent and snowshoeing in circles through 8-foot snowdrifts only to lose our trail! Though we didn't find the way to our planned picturesque mountain lake, we ended up proposing to each other by a beautiful mountain stream amidst much swearing and literal cold feet!"
They were married on May 12, 2018 at the Schaar's Bluff Gathering Center in Hastings, Minnesota. Their ceremony was intimate, in a rocky forested alcove overlooking the Mississippi River. They stood alone with their officiant and recited shared vows in front of the people who they cared for most in the world. The 100 guest reception was catered by The Sioux Chef, a local company focused on local, indigenous ingredients and traditions. Their "cake" was from Ethan's favorite bakery - Glam Doll Donuts.
Their marriage advice for other newlyweds applies to couples in any stage of their relationship: "When it comes to problem-solving, practice empathy and try to see each scenario or argument from your partner's perspective. Care excessively and show it every day. Be quick to ask for forgiveness, and quick to forgive. And if Ethan has anything to say, always save room for dessert."
"We make a pretty great team, from raising two dogs into upstanding citizens, to creating tasty meals together and tending a community garden plot. We aren't ex- actly known for being party animals, and would happily trade a wild night out for a quiet night in with our dogs and fireplace. After years of feeling like the odd one out in any social setting, it feels great to have a partner that allows you to completely be your imperfectly perfect self."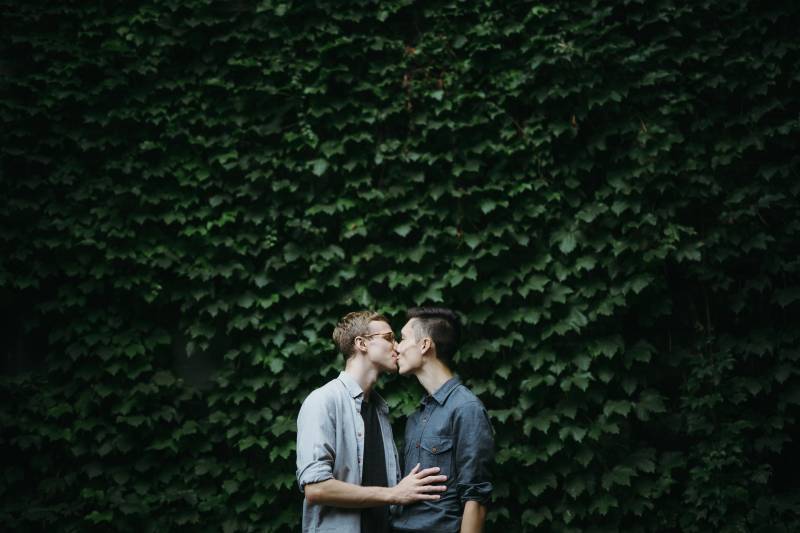 Photography: Joe and Jen Photo