It's game time! Here is a five-step plan to get you gorgeous from head to toe for one of the most epic days of your life because frankly, you still have to live your life while planning all the intricacies of this thing called a wedding! And, honey let's face it, it ain't easy.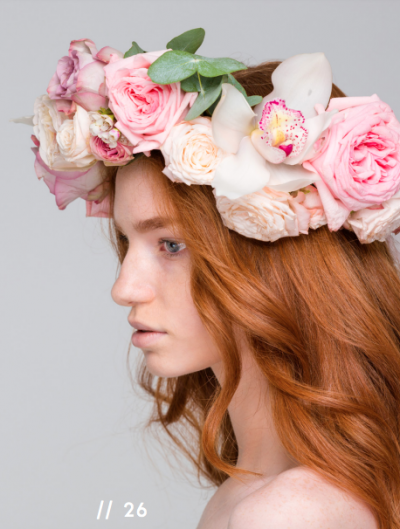 HAIR GOALS
About six months to a year before your big day you should start to envision how you want to look in all your glory. This includes hair color, length, and even style. Color is an important element because if you're a brunette and want to go blonde, I'm warning you right now - it is a process of Khloe Kardashian proportions! (If you're a sucker that gets pulled in by that darn show then you know who that is, and if you don't then - bless you!) If you are at the brunette stage and want to be fair-haired for your wedding you better have a serious talk with your stylist. You need to discuss how long it will take to achieve your ideal color so you don't end up with dry, damaged hair for the wedding - straw color is cool but not straw feeling. Remember: I believe it took our dear Khloe a year or more to get to blonde goddess status. If blonde isn't your cup of tea, what shade would look best on your fab self? Give yourself at least 3 to 6 months if you're planning to go one or two shades different. 9 to 12 months for something more drastic like dark to light or light to dark.
Also, get regular haircuts - every 6 to 8 weeks - to keep your hair looking fresh.
Last but, definitely, not least: if you don't have a regular stylist (or one that is wedding material) research your little heart out and find one. Ask friends, family, social media: go on salon websites and read the reviews, because if you are not confident in your stylist you will not be confident on your wedding day.
SKIN GOALS
Do you follow a skin care regimen? If not, start now. Or, at a minimum, start 6 to 9 months before the big day. Research a skincare line suited to your needs. Do you struggle with acne or oily skin? Is it dry and flaky? Do you have sun or dark spots? Whatever line you go with pick a cleanser, toner, and moisturizer. At night switch the toner for an exfoliator.
If dark spots are your struggle, you might consider chemical peels. I've struggled with this and chemical peels do wonders! With these you NEED to start 6 months before because truth be told, when I got my first one I peeled so bad that I lied and told everyone the burner on the stove fireballed into my face. (Sorry to my family and friends who believed me and may be reading this now. I didn't want you to know I'm vain but I really kinda am - for shame!)
A little extra advice: Never go to bed with makeup on, please!? Drink lots of water and get your beauty sleep.
PRODUCT GOALS
This leads us to the next item. Make sure you find products your skin loves and won't react to. Then 3 months from the "I do's" whatever you are using - stay on it.
A few months before the wedding is a great time to experiment with other things like fake eyelashes or extensions, a spray tan or hair extensions, because you never know what you will or will not like - this is your dress rehearsal. I went with hair extensions for my big day and it added a lot to the overall look. Truthfully, Go. All. Out! This is the biggest day to celebrate yourself and your future husband so if you want it or want to flaunt it - do it!
NAIL GOALS
If you have never had a mani/pedi - do it. Like now! Call your bridesmaids, mother, and even your future mother-in-law (maybe) and treat yourself! I suggest keeping up on the care of your hands and feet for the 3 months leading up to the nuptials. If you are doing gel or acrylic nails, schedule your final appointment the week of the wedding. For traditional manicures, wait until one or two days before.
SEASON GOALS
In what setting or backdrop do you envision your fantasy day? Is it warm, fuzzy, and romantic? Colorful, breezy, and comfortable? Your choice in wedding dates is important in determining your hair color, makeup look, and products. Hair and makeup trends can mimic the seasons. Dark, reds, and coppers in fall and winter or lighter hues in spring and summer. You could also be a total rebel and do the opposite!
Knowing the season of the wedding will also help your stylist (and you) choose the right products to have your hair and skin looking its best at that time of year.
Having a game plan for your external look will allow more time for you to focus on who you are spending the rest of your life with. Which, of course, is the most important part of your day. Congratulations on your engagement from me and everyone at True North!
By Anna Roberts - Hairstylist, writer, and creative. Anna graduated from the Aveda Institute in 2000. She currently lives in Grand Rapids, MN and works at True North Salon and Spa located in the beautiful and historic Old Central School. Anna is passionate about her faith, family (4 kids!), friends, hair, makeup, fashion, and writing.