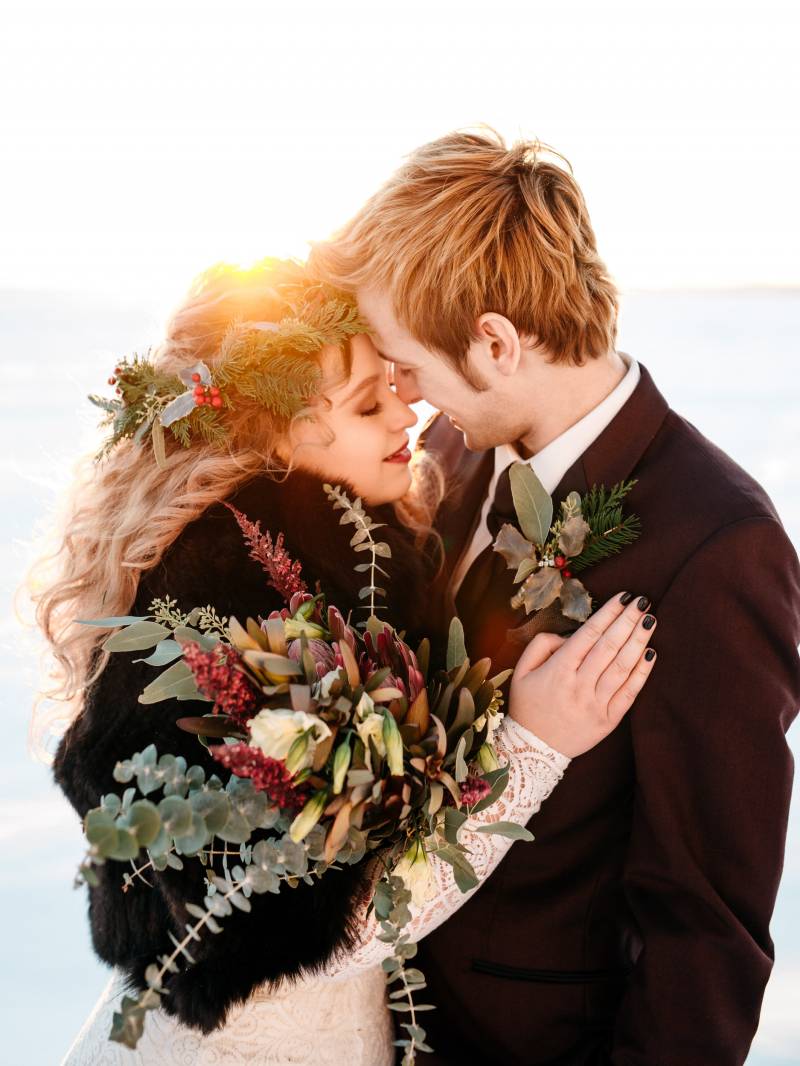 Bailey and Carson became friends when they were fourteen years old. Bailey's best friend (who would later become her sister-in-law) and Carson's brother introduced them at their local Youth for Christ. The foundation of their relationship was built on a close friendship, but it became clear to them over time that they were both interested in becoming more than friends.
They got married on one of the coldest days of the year - a freezing 18 degrees below zero. But the cold didn't stop them from enjoying every moment of their day.
Bailey and Carson chose Lakeside Ballroom in Glenwood, Minnesota as their wedding venue. It was a beautiful, open space that provided them the opportunity to have their ceremony and reception in the same room while their family and friends sat at the tables where they would end up eating. Both of them grew up with Nordic influences and decided to pull cultural elements into their wedding. They created a soft and wintery atmosphere with Christmas trees, soft lights, and winter greenery and holly centerpieces. Instead of a traditional cake, they enjoyed Swedish lefse and Kransekake, a tiered Norwegian wedding cake.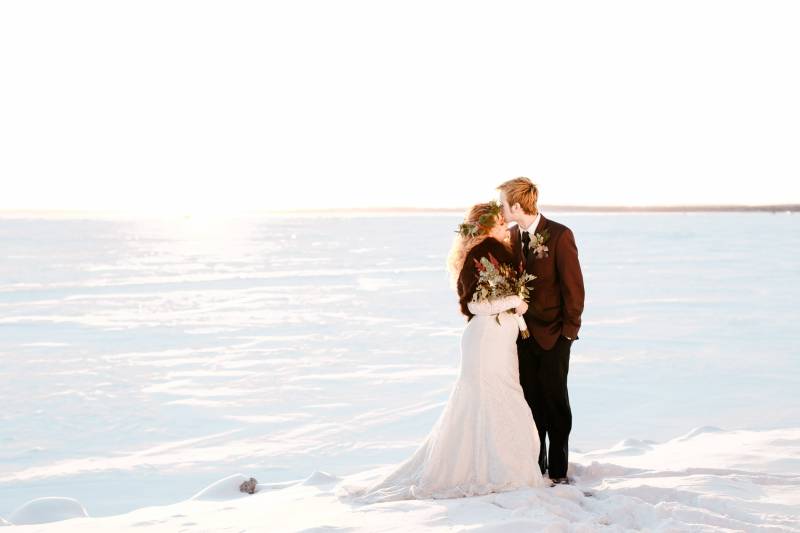 Bailey went simple with her accessories and focused attention on her show-stopping flower crown, another nod to her Nordic heritage. Carson wore a burgundy suit coat that helped to pull the deep burgundy colors out of Bailey's bouquet.
Their marriage would prove strong from the beginning and ring true to the old adage of "in sickness and in health." Not only was Carson's brother sick with the stomach flu, but so was the groom himself! The couple proved that they would be there for each other and make unforgettable memories no matter what.
Bailey's advice for other couples planning their wedding is to make sure that the day is representative of who you are as a couple, not about the latest trends. The result will be a truly timeless event that you will remember forever.
Photography: Tessa June Photography
Venue: Lakeside Ballroom
Florist: Anderson Florist & Greenhouse
Bridal Gown Shop: Jackie J's Bridal and Formal Wear
Bridesmaids' Attire: Jackie J's Bridal and Formal Wear
Suits: Jackie J' Bridal and Formal Wear
Rings: Etsy and Karrow Jewelers
Food: Lakeside Ballroom
Hair and Makeup: SM Makeup
DJ: Al Edwards Entertainment