When it comes to planning your wedding, you are inevitably going to run into some tough topics and situations. We're here to help you navigate through those! Send us your questions and conundrums for a chance to be featured in the next issue of Lake Bride Magazine.
As a former wedding planner, a big part of my job was making my clients' dreams come true while staying within their budget - sometimes easier said than done!
To make sure I could manage their expectations, we'd start by prioritizing what was most important to them to decide where to allot more of their budget. For example, if having incredible photos was at the top of their list and flowers were at the bottom, we'd splurge a little on photography and save a bit on florals. Seems pretty obvious, but having the list of priorities written down made making those decisions on where to spend less very easy.
If you're undecided on where to put some key elements on your own priority list, these are my suggestions on where to splurge and where to save when it comes to planning your wedding.
PHOTOGRAPHER
Your wedding photos are the tangible memory you're left with after your wedding is over. I'll admit that I don't sit and look at my wedding photos every day, but when I do take the time to reminisce, I'm happy to have beautiful images to remind me of how lovely our wedding day was. They are also a great way to fill you in on details that you might have missed during the whirlwind of getting married and hosting your guests. I've never heard a bride say she regretted spending money on a good photographer, but I have heard regrets when couples tried to budget here.
TIP: Check to see if your photographer offers an included engagement session in their fee. This way you and your significant other will get some practice in front of the camera before the big day, but you'll also get some more photos for the price of your wedding photos.
WEDDING PLANNER
I'm not just saying this because I used to be a planner; I truly believe that this is some of the best money you can spend on your wedding day. It allows you to be a guest at your own wedding and not have a single thing to worry about in the days leading up to the big day. At the end of the night, do you really want to be thinking about how your gifts are getting to your hotel room or how and when the rentals are getting picked up? I don't think so! Let someone else handle those details.
TIP: If you can't fit a full-service planner into your budget, look for one who assists with day-of planning. They generally offer to take the reins from you in the week or two leading up to your wedding so you'll get to relax and enjoy the time with your family and friends.
FOOD
The food is often what guests will remember the most from your wedding. It can also make or break your reception. You don't have to serve a gourmet multi-course meal, but don't skimp too much on your food. Hungry guests are cranky guests, so keep them well fed. There are many options for service including family style, buffet, plated, or chef action stations - just make sure you have enough food. There is nothing worse than running out of food!

SAVE THE DATES + INVITATIONS
With so many online resources at your disposal, your invitations and printed accessories are a good place to look at saving some money. Websites like Etsy and Minted offer designs that are easily customizable to fit your exact style and needs while staying within a budget. There are easy add-ons like gold foil or calligraphy that can make your invitations stand out without breaking the bank.
TIP: Many websites offer perks like free recipient addressing or a percentage off your purchase if you sign up for their email lists, so make sure to keep an eye out for that.
WEDDING GOWN
Let's be honest, who doesn't want a beautiful, one-of-a-kind, stunning wedding dress? I'm here to remind you that you can get that without spending an arm and a leg. At the end of the day, your wedding dress is an item of clothing that you will wear once in your life, and then it will spend the rest of time living in a box in your basement. This is one area where you can definitely save some money. There are many designers and shops out there who offer gorgeous designs at an affordable price. You can take those dresses to the next level by adding your own personal touches through accessories and jewelry.
DESSERT
This is a hard one for me to admit as I have a sweet tooth that just won't quit. But in the grand scheme of things, your wedding dessert is an area where you can easily save money. There are so many alternatives to traditional wedding cake out there (think pies, donuts, cookies and milk, dessert miniatures, ice cream sundaes, cupcakes... did I mention I have a sweet tooth?), so think outside the box here and choose a dessert that you and your future husband or wife both love and don't worry about breaking the bank on the sweets.
TIP: Still want a showpiece cake for that cake cutting photo op? Consider getting a smaller tiered cake to be on display, but feed the majority of your guests from sheet cakes. The sheet cakes are much less expensive, and no one but the kitchen staff and servers will see them.
Now make your own list. Rank these elements from 1 to 12, with 1 being the most important and 12 being the least. Now you know where to allot your dollars!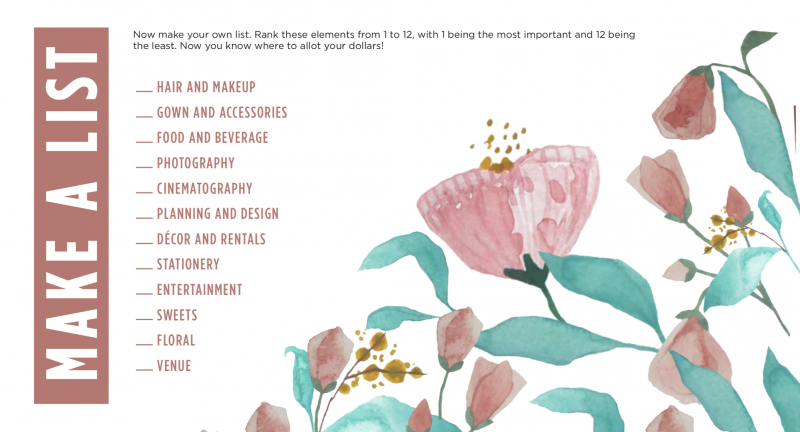 Painted & Illustrated by: Meredith Latimer Berg
At Lake Bride Magazine, we strive to continually inspire you and your ideal "I Do's" by featuring a collection of beautiful inspiration, the best local resources, the latest trends, and practical planning tips for your special day. Reserve your issue HERE.