by Filigree Jewelers
Why are vintage rings the hottest trend in buying an engagement ring or wedding band? The answer is simple... each ring is truly unique and has a level of sustainability not seen with modern jewelry.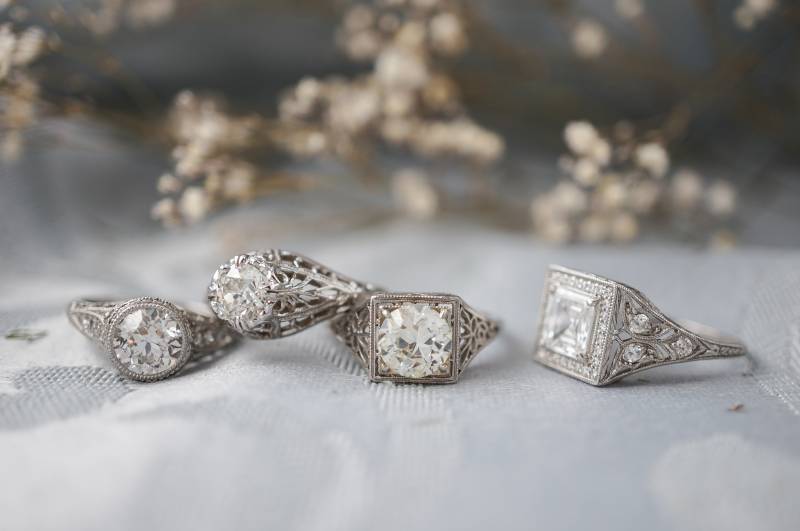 In a world of mass-production, many brides are selecting something that is different than your basic cookie cutter solitaire diamond with tiny side stones. Each era has a certain style and the hard part is picking an era of design that fits your aesthetic and lifestyle.
The Victorian era dates from 1837 to 1901 and was established by Queen Victoria's rule. Known for her extensive jewelry collection, the Queen, the trendsetter of the time, was responsible for establishing the engagement rings as we have come to know them. Yellow gold was the only option at the time. These pieces feature glittering old mine-cut diamonds with delicate prong work or an iconic cluster design and are just two examples. With close to 150 years of history behind the brilliance, we would love to know the romance behind each one. Keep in mind that when these rings were made, horseback was the means of transportation.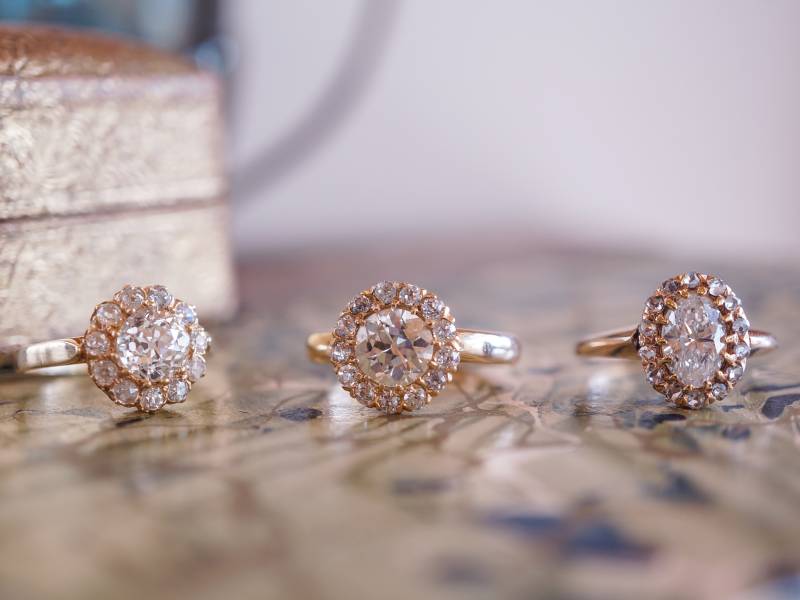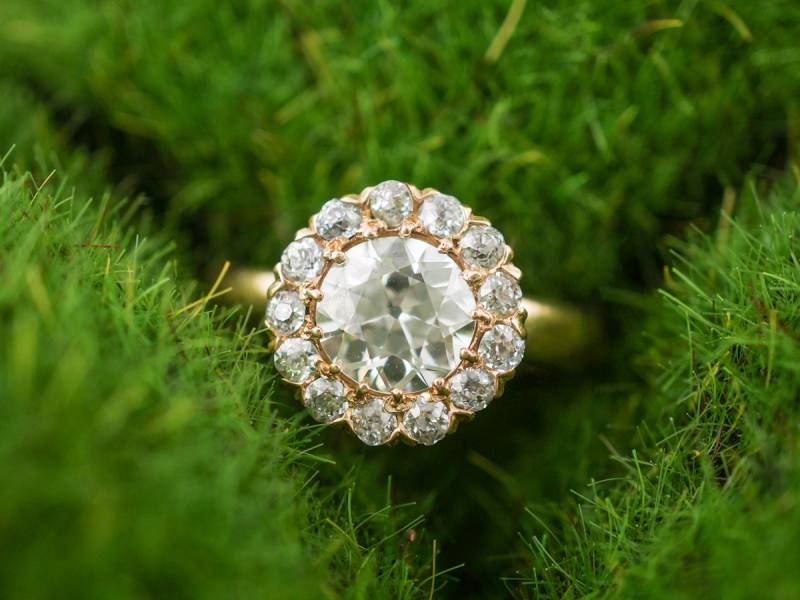 Yellow gold eventually faded from popularity (for a time) and platinum and white gold became the metal of choice in the Edwardian and Art Deco periods. Spanning from 1901-1909, Edwardian rings feature open ornamental wire-work, filigree detailing, and designs accented with diamonds. Platinum is extremely pliable and was used to create a diamond lace appearance with a delicacy that is not seen in modern pieces. The roaring 1920's Art Deco time period brought incredible opulence and indulgence. That is certainly visualized in the jewelry of the time period, however many engagement rings from the period have an understated elegance. Refined style with a major attention to detail, each ring has its own character with hidden design aspects from every angle. For the first time in history, the term "Modern" was used as a descriptor and the jewelry from this time period still looks like it could have been made today!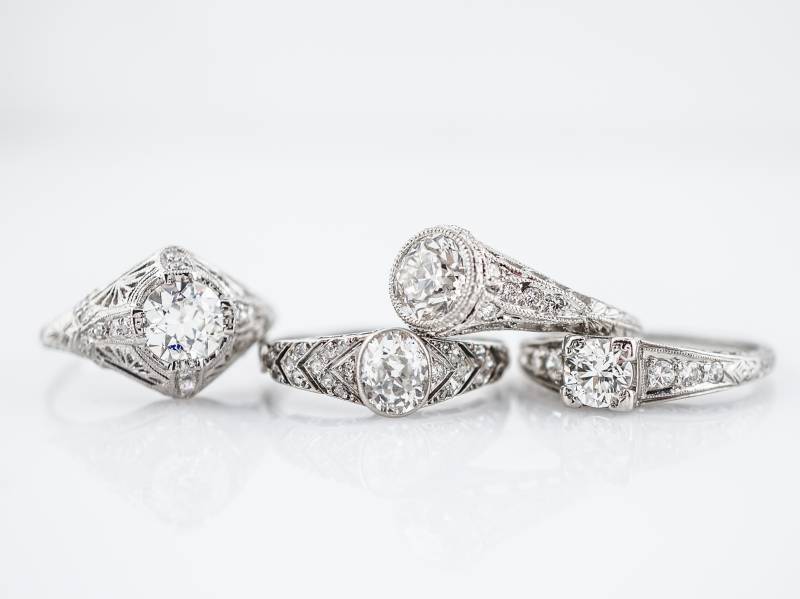 The late 1930's and into the 1940's is known as the "Retro" period. Yellow gold makes a comeback and many designs feature classic solitaires with minimal side detailing. Jewelry makers from the period began to integrate both yellow and white gold into their designs, creating gorgeous two-tone rings that are extremely versatile. These are some of our most sought after pieces and if you want the best of both metals, explore rings from the 1940's Retro period.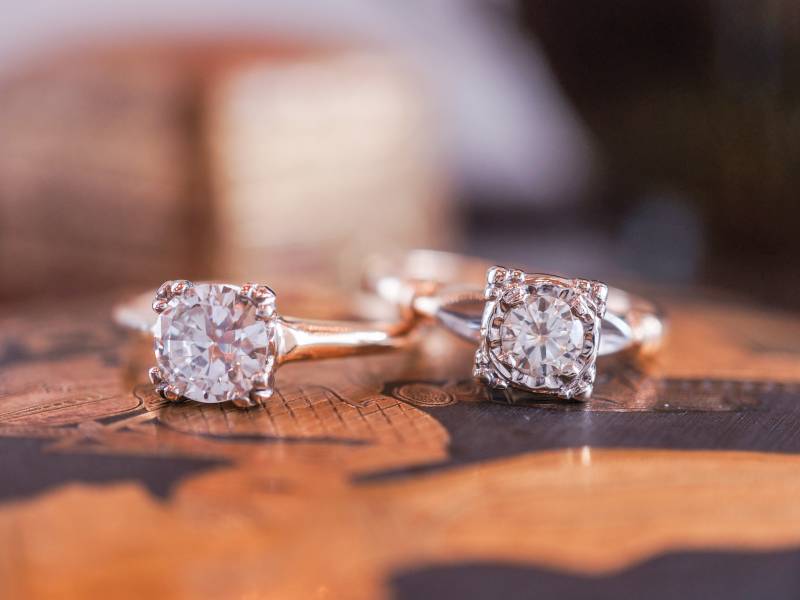 The 1950's was an era focused on modern designs and the glamour of Hollywood was a major inspiration. Platinum was available again after the war and was back in fashion. These engagement rings often featured the "newest cut," the round brilliant. Round brilliant cut diamonds were all the rage as they marketed each diamond as maximizing the brilliance of the stone. The center diamond was the star, often placed in full view with long prongs for maximum brilliance. Tapered baguette cut diamonds were popular and elegant accents that served as a perfect complement to the center stone.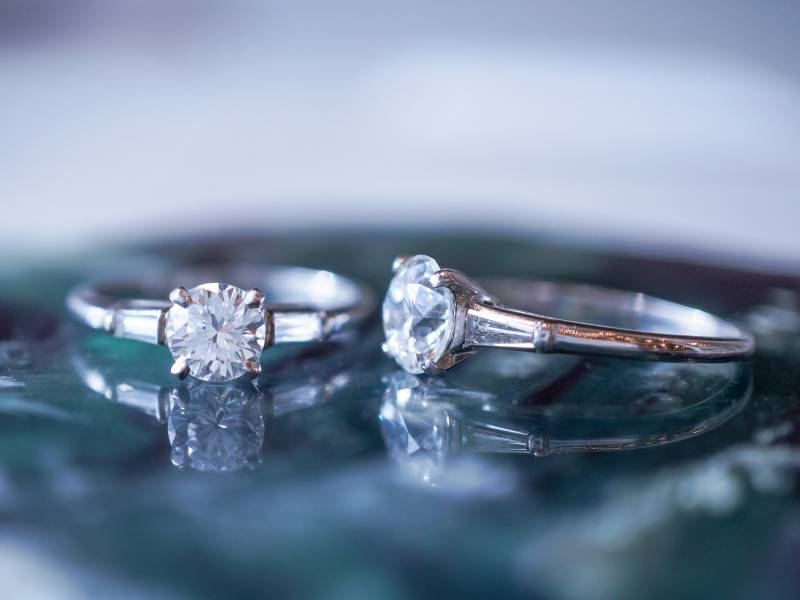 Antique and vintage rings offer individualistic designs and a sustainability not seen with modern jewelry. Today, designers produce their lines en masse as a cost-effective way to serve demand. Unfortunately, many details fall by the wayside as rings must be easy to replicate. Therein lies the beauty of a vintage piece. Not only are you not contributing to potential ethical issues, but these pieces were created one at a time, when jewelry making was a true art form. Your relationship is one of a kind and we think the symbol of your love should be just as unique!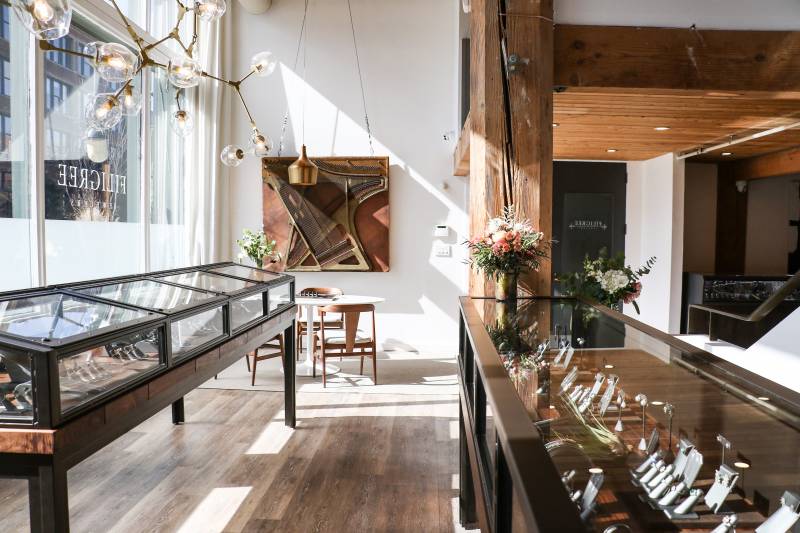 At Lake Bride Magazine, we strive to continually inspire you and your ideal "I Do's" by featuring a collection of beautiful inspiration, the best local resources, the latest trends, and practical planning tips for your special day. Reserve your issue HERE.