I have a running theory: when you walk into a room full of people the first two things you notice are the prettiest girl and the best dressed guy - usually in that order. But what truly defines "best dressed?" Allow me to quote the great G. K. Chesterton: "Fashions have an extraordinary way of being first omnipresent and oppressive and then suddenly blank and forgotten."
Today's world of fashion is just as dizzying and confusing as ever, but we do appear to be in something of a renaissance for the long-lost art of fine men's clothing, and it's likely here to stay. However, some understanding is needed in order to fully appropriate this renaissance.
"Fashions" (meaning trends) are just like humans - they die. A man's objective in his dress should be to transcend. Case in point: where are the bell bottoms? And how'd those skinny jeans work out for you? I rest my case. So, before continuing, take a moment and google "Steve McQueen style," then "Robert Redford style," then "Paul Newman style." Notice anything? Quite a few of those photos are not as dated as you'd imagine - pea coats with the collar up, denim shirts, cardigans, sweatshirts. These looks never die - they are timeless, they transcend trends. These guys pulled off the timeless fashion look with great aplomb.
Perhaps it bears repeating that an "empty suit" Is still an empty suit. Fellas, how you look matters - there's no getting around it, but if there's nothing behind the well-dressed façade, then you're missing the point altogether. History has proven that the inside man should be even better than the outside man, otherwise you're only delaying the disappointment of others by a few minutes. When your timeless fashion sense draws them in, your personality better keep them there! Alas, we'll have to save those philosophical musings for another day, for on this day, we must discuss the "do's" and "don'ts" of a very common and dressy affair - the wedding. You'll likely only ever attend your own wedding once in your life, so you better get that right, but you'll be very likely attend numerous weddings of your friends or your wife's/girlfriend's/partner's friends. This is where we shall focus our attention. We men are a simple type, "Give me the rules and etiquette and let me be on my way!" Very well then, here they are:
DO
Dress nice. The rule for women of "don't wear white to a wedding" does not apply to men in the sense that you need to somehow dress less nice than the groom. More specifically, procure for yourself a good, tailored suit. We will get into color pallets another time, so for now it will suffice to say that nearly every man looks good in navy blue and gray. These should be standards in your closet. Navy for your celebratory affairs (weddings, dates) and gray for your business meetings. You will need to know your suit jacket size in order to begin the process of proper suit wearing - they do not come in small, medium and large - a custom suit, tailored to your exact body type (cause really, is S, M, L & XL really the breadth of the human body?) is your best bet for looking great and getting the most life out of your suit.
DON'T
Wear worn out jeans. Unless this particular wedding is one of those "wear whatever you want, we just want to have fun" kind of weddings (I have been to a few of those, they are wonderful). A pair of dark jeans however can look fantastic.
DO
Wear sneakers. Not your knock around, beat up, vinyl Nike shoes, but nice, clean white leather sneakers. You will be on your feet for a long time and dress shoes don't often provide the comfort and breathability that you'll find in a good pair of tennis shoes. They also look amazing with a suit.
DON'T
Wear snakeskin boots. No one thinks it's clever. It makes them think of snakes. Who wants to think about a snake? Furthermore, do you want people to see you and instantly think of a snake? I should hope not.
DO
Embrace some color. Not a Hawaiian shirt (I left that out of the "don't" column because I THINK that's pretty obvious), but some color is nice. Avoid strong colors; a bright green or red jacket for instance, as these will draw the wrong kind of attention, but SOME colors at a wedding are perfectly appropriate.
DON'T
Wear a black tux. You're not in the wedding, bro. While every man should also have a good black suit for the occasional, obligatory black tie affair, a wedding is not one of them.
And there we have it! There is of course more, but this is a good starting point. I'll include a few outfit grids to get your fashion sense tingling. Until next time.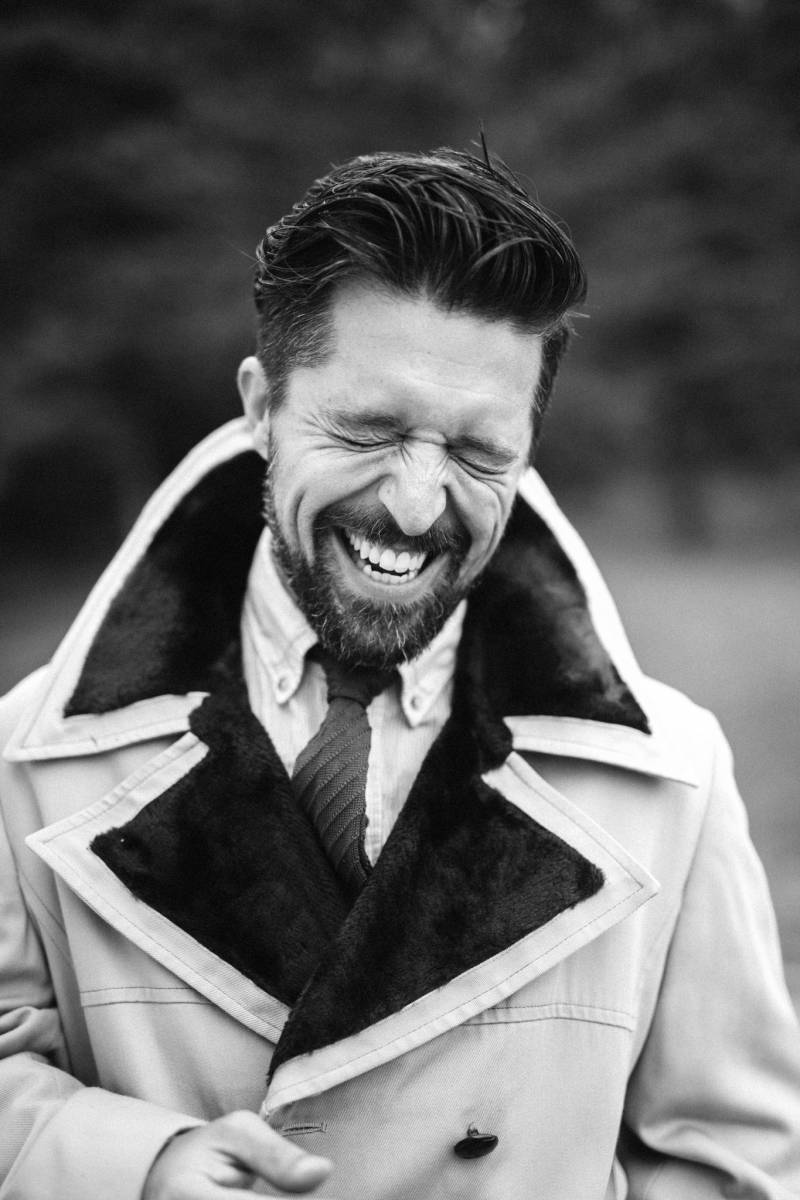 Jeromy is an actor, speaker, songwriter, and style consultant based out of the Twin Cities. He's been married for over 16 years to his only girlfriend, and they have three sons, Wyatt (9), Wilder (6), and Wren (2). He can be reached at [email protected] or by visiting his custom menswear site at www.style.asafeman.com
At Lake Bride Magazine, we strive to continually inspire you and your ideal "I Do's" by featuring a collection of beautiful inspiration, the best local resources, the latest trends, and practical planning tips for your special day. Reserve your issue HERE.