Michelle and Jonny first met when they both laughed at an accidental joke that one of their professors made when they were in college, and have been inseparable ever since.
"We've lived a lot of life together starting with quitting our day jobs upon getting engaged. I honestly cannot believe how fortunate our lives have been thus far. We started our photography business, promptly took six months off to travel the world, did a year long road trip around the United States to raise money and awareness for human trafficking victims, and now we have a 3.5-year-old daughter and almost one-year-old son who are the brightest lights and greatest gifts we could've ever imagined."
This past August, Michelle and Jonny celebrated their ten year anniversary with a vow renewal ceremony in their backyard in Madison, Wisconsin. Their house, a midcentury home designed by an apprentice of Frank Lloyd Wright, served as the perfect setup for a party.
Two floral-clad alpacas acted as greeters, and their guests grabbed cans of wine before finding their seats. Their friend made a stunning floral wall as the backdrop for their ceremony that was framed by a sculptural triangle. Two other friends sang a beautiful a capella version of their first dance song, "Guess It May" by Rosie Thomas. Jonny's brother delivered a heart- felt message, and Michelle's sister and brother-in-law shared an original poem and a song that they wrote. Jonny describes their ceremony as "over- whelming in every possible good way." Every part of it was "packed with such meaning and beauty and kindness that it's still hard to process it all."
The ceremony was followed by cocktails, hors d'oeuvres, and lawn games which led into a donut-fueled dance party in their courtyard. They planned a celebration that was as beautiful and fun as they are.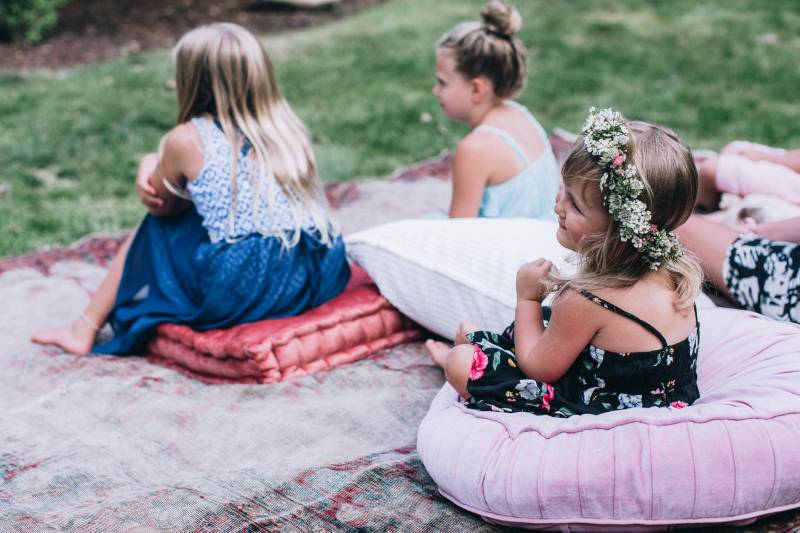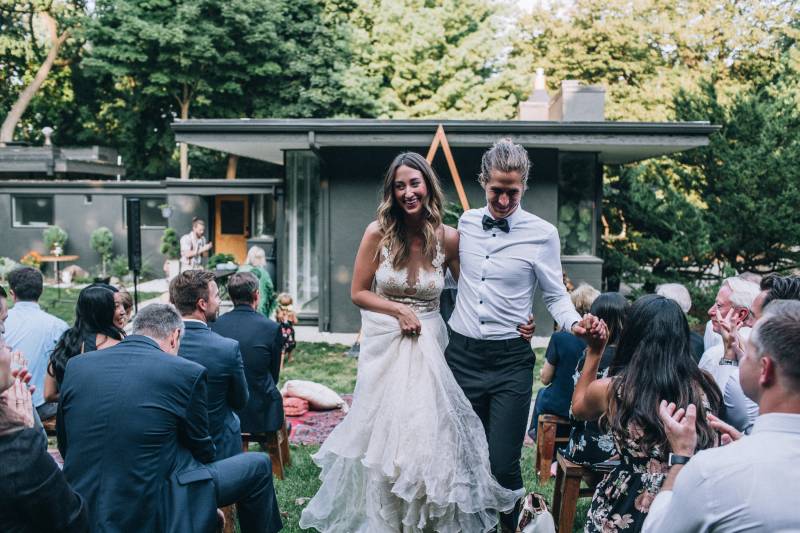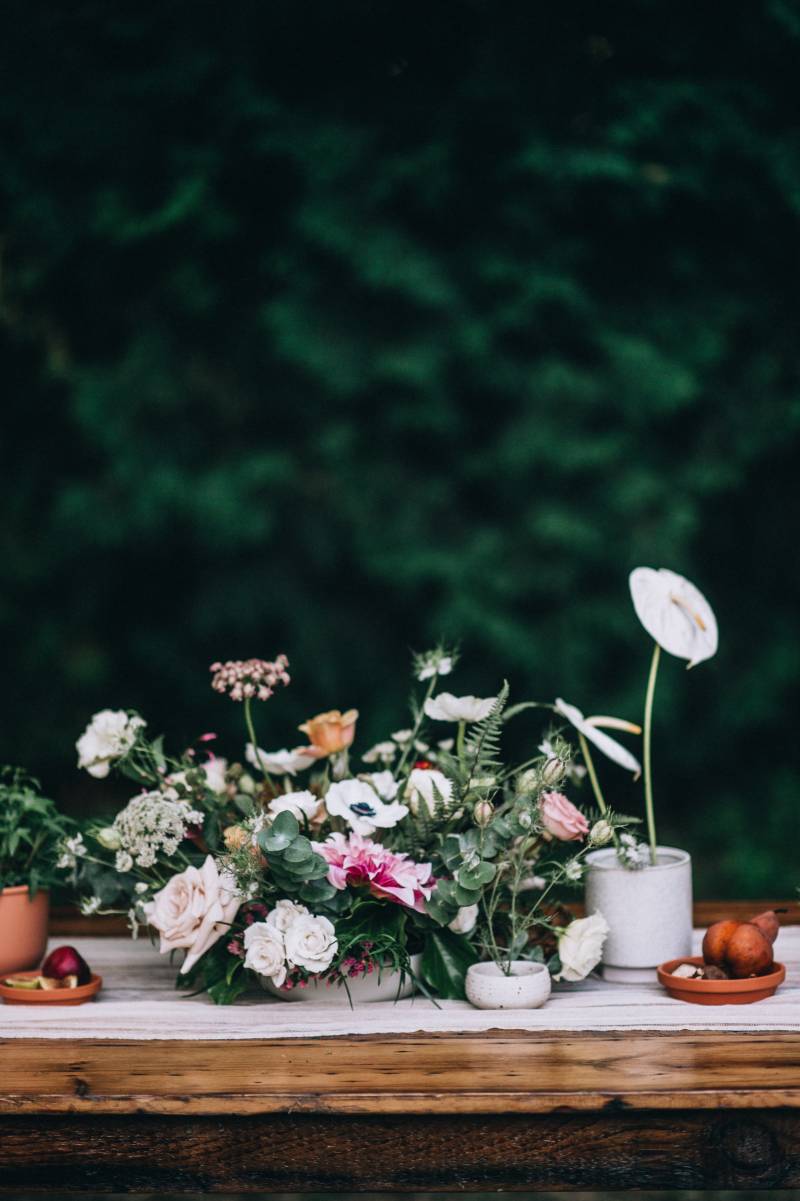 In Jonny's words, "Let only what's important and necessary remain. A
lot of people asked me why we'd have a ten year vow renewal ceremony. Simply put, we celebrate job promotions, retirement, birthdays, gradua- tions, new pants, etc., all of which can be great things. However, marriage can get overlooked (or given a bad rep) in this landscape of striving and achievement. So, beyond a wedding, celebrating marriage and reflecting, gathering, and communicating love that is chosen and leaned into is worthy of a party; worthy of taking inventory in ourselves and in our lives, all of the goodness and hardships and blessings that have happened in the past ten years because it's easy to get distracted and easy to forget that the most valuable parts of our lives are often right in front of us."
They have two pieces of marriage advice for newlyweds:
1. Be careful of the conversations between your ears.
2. Speak lovely things over someone and they become more lovely.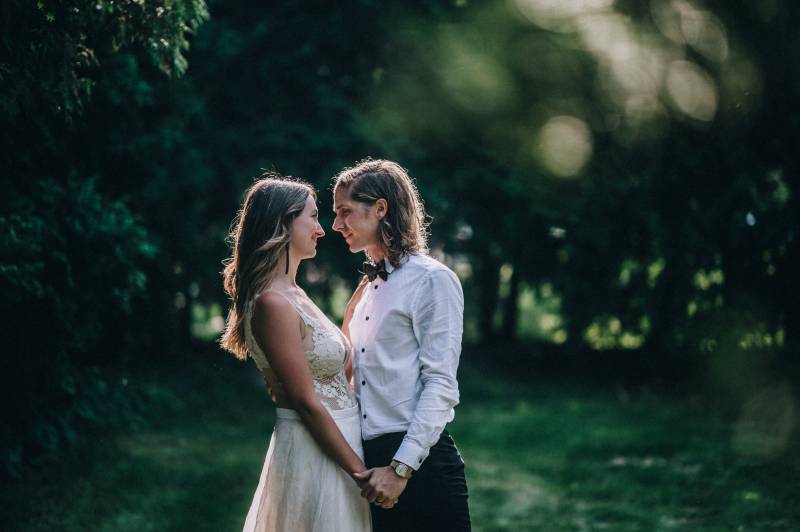 Photography: Paper Antler
Photography (Ceremony): Eliesa Johnson of Photogen Inc.
Cinematography: Joseph McMahon/LB Jeffries
Venue: Casa de Antler
Florist: Briar Loft
Bridal Gown Designer: Linyage
Groom's Attire: H&M
Catering: Upside Down Catering
Cheese Boards: By Kara Elisa
Donuts: Bloom Bakery
Planning & Design: Cherry Blossom Events
Décor and Rentals: A La Crate Rentals
Macrame Hanging: Dream Like Trees
Tap Wall: Borrowed Bar
Centaur Design: John Albaugh