Plan A was to have an outside ceremony, but the rainy day left Kayleigh and Andrew with option B. At Camp Foley there's a little church with a stunning red door and the most intimate feeling ever, and that's where the bride and groom said, "I do."
Locally-made pies, a delicious buffet, and some heartfelt speeches were just the
beginning of the reception.
Now they are honeymooning in London, Paris, and Venice. I think of how perfect their wedding day was and one thing comes to mind: when you're marrying your best friend and the one who you will share your life with - who will be your partner until death, it can rain or shine... and it will be perfect.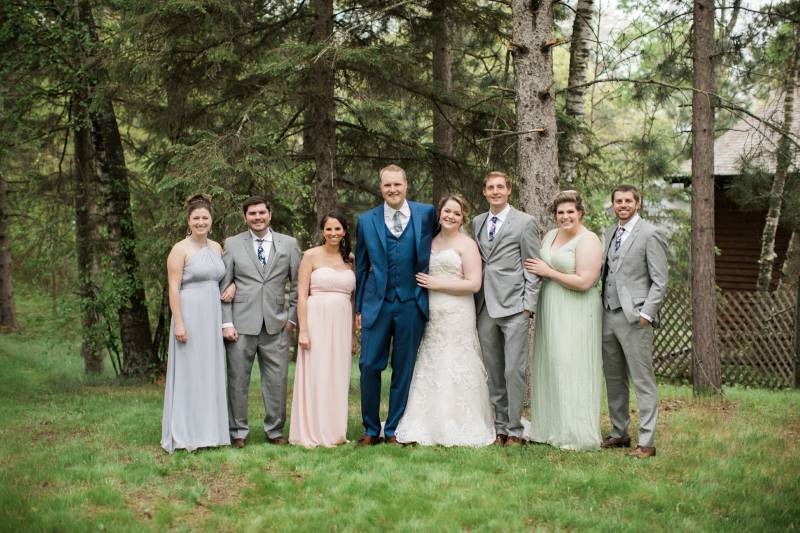 SOURCES
Photography | Poly Mendes Photography
Venue | Camp Foley
Florist | Bloom Designs by Kate Kuepers
Hair and Makeup | Bliss Salon and Boutique
Pies | Grandma Bettie Jane's Pies | Schaefer's Foods
Dress | Diamond Bride
Bridal Shawl | Faribault Woolen Mills | The Lake + Co. Shop
Bridesmaid Dresses | Union Station, Nordstrom's Rack, and Bride-to-be Consignment
Groom's Suit | Oliver Wicks
Groomsmen Ties | Groomsland | Etsy