Bringing friends and family together from across the country for the big day is special...but it often means long travel days and expensive arrangements. A welcome basket is a great way to say 'thank you' in style. Follow these steps and you are on your way to creating a gift that is personal to you and your event.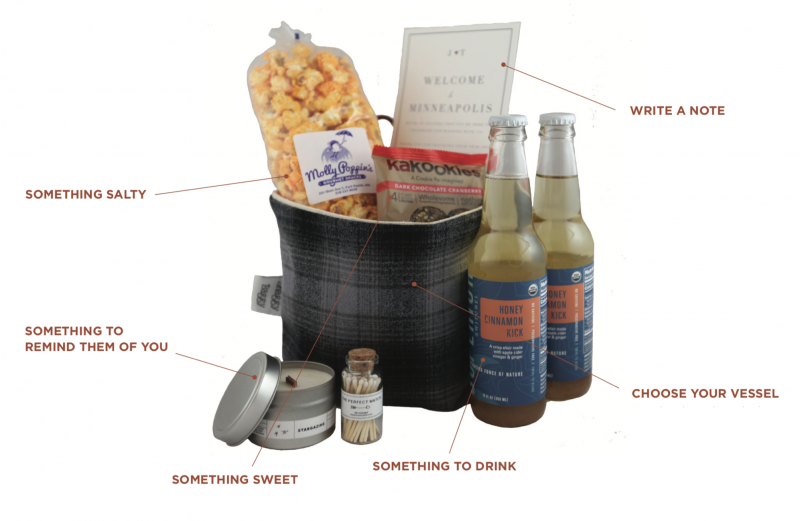 Write a Note:
Welcome your guests to your wedding weekend and give them important timing or itinerary info (think bus departure times, ceremony time, etc.). A printed welcome note will do for most weddings, but depending on the size of the event or number of out of town guests, a hand written personal note or signature always takes it to the next level. Work with your invitation designer to make it look and feel like the other elements of your event. Don't have a designer yet? Be sure to check out Ginger P. Designs, shown here.
If you're putting items into the box that have personal meaning to you, consider letting your guests know about that! (ex: chocolate chip cookies baked using your grandmother's secret recipe or a favorite treat from your childhood)
Choose Your Vessel:
It can be a bag, a box, a basket... you name it. But what if it can be a gift in itself? We fell in love with these amazing storage bins from Shaggy Baggy ($38), made locally in St. Paul, MN with sustainable processes and materials. Your guests can easily fold them up and put them in their suitcases to be enjoyed for years to come.
Something to Drink:
While water is always a good option, consider something out of the box - they can get water anywhere! Our newest obsession is Superior Switchel in Honey Cinnamon Kick ($40 for a 12-pack). What's switchel you ask? Switchel is a 17th century thirst quencher said to have been used by sailors and farmers as a way to overcome harsh winters and rehydrate during blistering summers. We love this flavor that features cinnamon combined with apple cider vinegar and honey to create a cider-like, ginger boost. Great cold - or hot on chilly nights - and even better, in our opinion, enjoyed as a drink mixer. USDA Organic and good for dehydration too!
Something Sweet:
Yes, we know. Who wants a cookie that's "healthy?" Well, you do. And so will your guests... trust us, we go through way more Kakookies at the Lake + Co. offices than we'd like to admit. Kakookies Dark Chocolate Cranberry ($2) is the perfect blend of sweetness and 'fill you up' ingredients. Just what anyone needs to get through the 3pm push. It even works perfectly as a breakfast on the go.
Something to Remind Them of You:
All of your guests know that you are the perfect match, so send them home with a reminder that they will actually use. True Hue is as Minnesotan as it gets, and offers chic, modern packaging. We love the North Collection Candle Tin in Stargazing ($12) and the 'Perfect Match' glass bottle standard tip matches ($8) for a gift they are sure to enjoy.
Something Salty:
Popcorn is the ultimate snack food, and Molly Poppins' Cheddar Popcorn ($8) is the best of the best. Locally made in Park Rapids, MN and sure to hit the spot after a night on the dance floor.