Emily and Nick grew up in the same small town, were one year apart at the same high school, but somehow never met until they ended up taking the same college trip to Greece.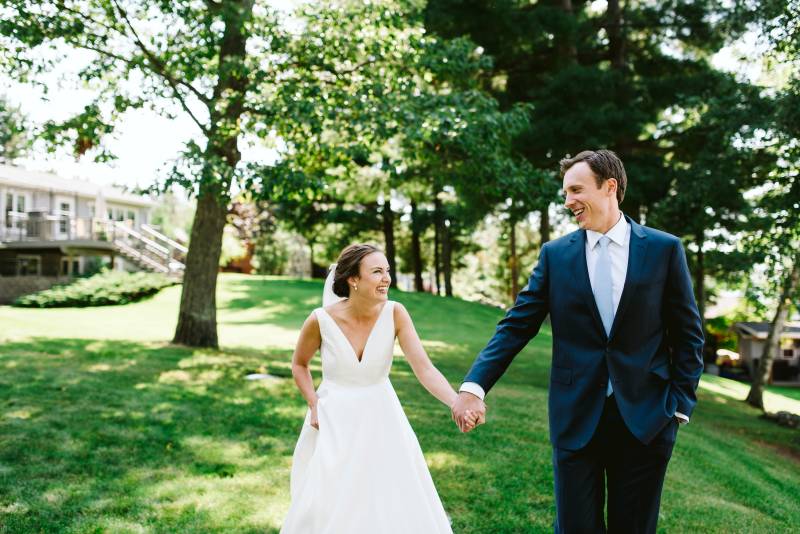 Nick knew from the moment he met her that he was in love. "I knew I loved Emily ever since we met in Greece. To put it simply, my life is infinitely better. Emily's bright smile, warm heart, and sense of adventure make any experience so much better. On the first night in Athens, we were in a hotel that had incredible views of the entire city, including the Pantheon. Despite this, all of my attention was on Emily. I couldn't believe how well we connected and how aligned our values, interests, and dreams were. We actually stayed up talking until the sun rose and haven't looked back since."
As a couple, they love to stay busy and travel, but it was a quiet evening at home when Emily realized he was the one she wanted to spend the rest of her life with. "I remember one day when we were living in our first apartment in Minneapolis, I was spending the day cooking in the kitchen, Nick was watching football, the fireplace was going, and the snow was silently falling. It was simple, cozy, and we were completely content. I remember looking over at him and realizing that this is exactly how I want my life to be."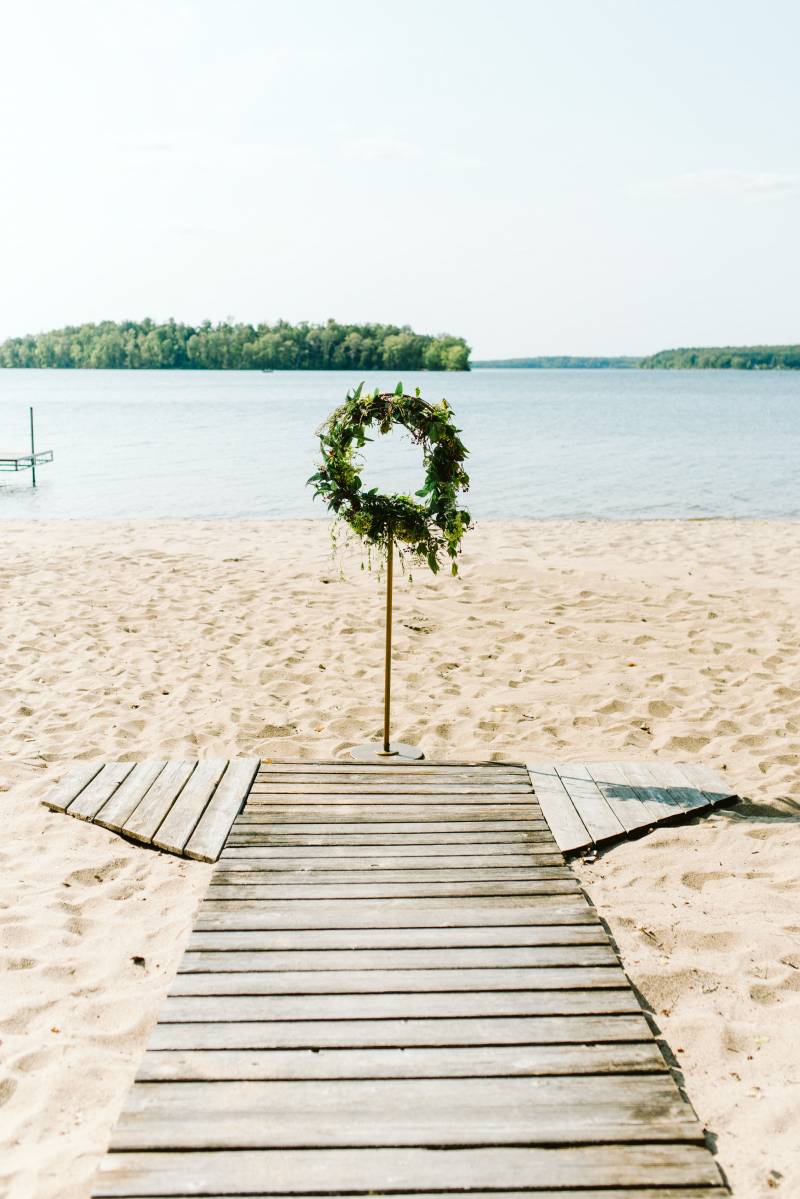 They both grew up spending a lot of time on Pokegama Lake in Grand Rapids, so the decision to get married on the lake was easy for them. "Every detail of our wedding was based around our desire to keep things simple, classic, and elegant," Emily said. "Throughout the whole process we kept saying, 'yes, that sounds like us,' and when something did not align with that thought, we did not include it. Everything from the ceremony taking place on the beach at Nick's grandparents' cabin, to enjoying a nice slow pontoon ride back to his parents' house for the reception and ending the evening with our favorite people dancing the night away - every detail mattered and made everything special. We couldn't have asked for a more perfect day!"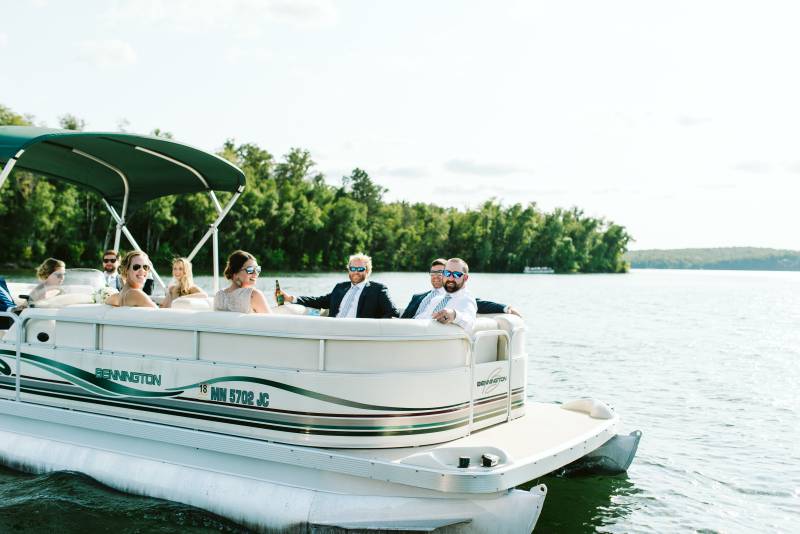 Their reception included two custom-made tents. The main tent was their cocktail and dinner location. It was simple yet elegant with white drapes, sky-lit peaks, and lots of greenery. They created a lounge area with couches and coffee tables for guests to relax at during cocktail hour. The lakeside tent was illuminated by lights in the trees, and the dance floor was packed all night.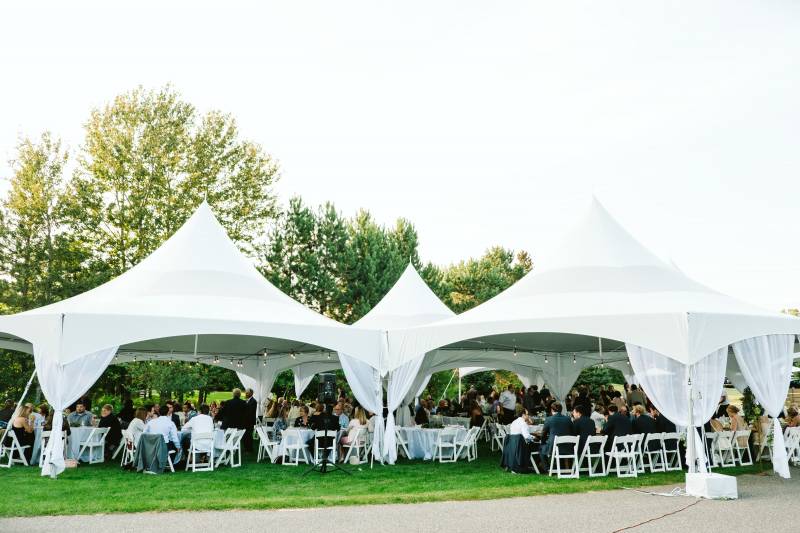 In Emily's words: "Our journey has taken us through the ebbs and flows of undergrad to graduate school, from Greece to China, and from being young kids falling in love to adults being completely in love! Our love is simple - whether we are traveling the world, training for our next race, or enjoying a lazy Saturday at home with our dog, Molly, our love stays the same. We support one another, challenge each other, and always prefer to be together than apart. Over the past ten years, we have remained each other's best friend, backbone, cheerleader, and soulmate."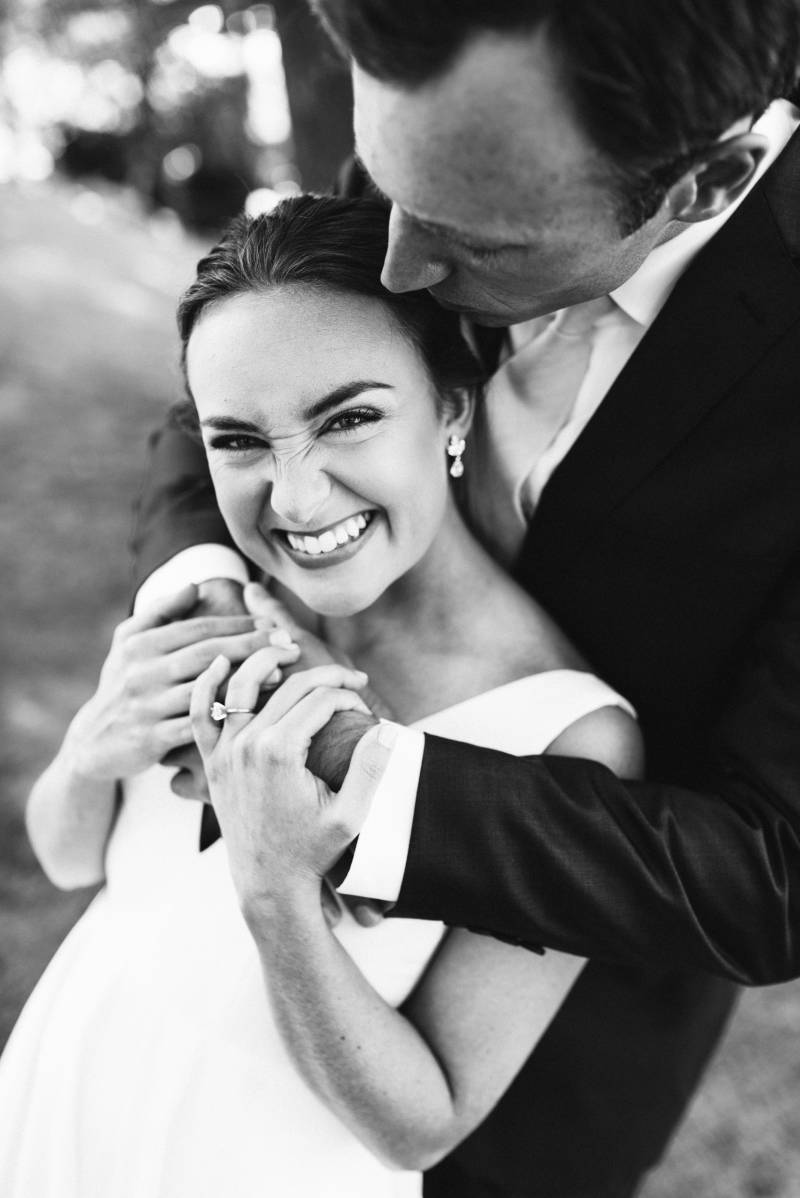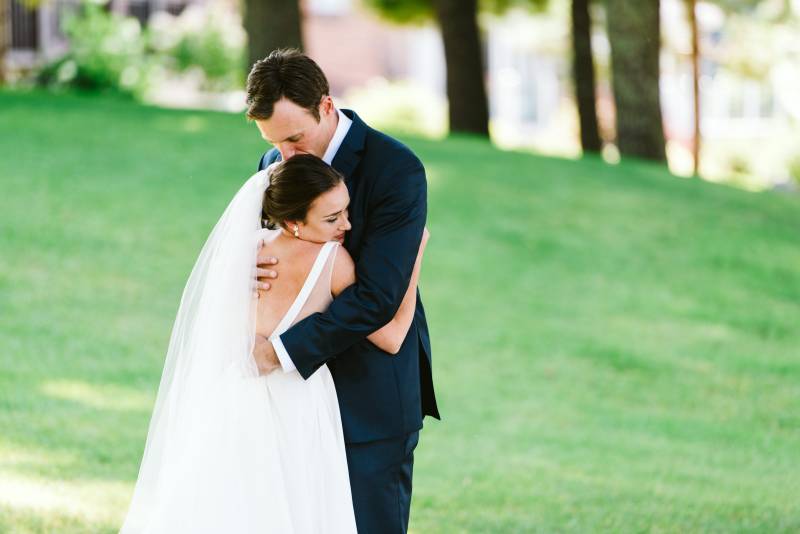 Featured Vendors:
Photography | Bailey Aro Photography
Rings | Wedding Day Diamonds
Wedding Planner | The White Brick Company
Hair | Salon Brad
Makeup | Bala Spa
Other vendors: BHLDN, Jenny Yoo, Jillian DeChaine Photography, Atmosfere, Harry's Bar and Grill, Duluth Grill, OMC Smokehouse, Event Tents, Etsy, Lefty's Tent & Party Rental, Meredith Rothstein, Champaign Press, Riverside Hitmen
At Lake Bride Magazine, we strive to continually inspire you and your ideal "I Do's" by featuring a collection of beautiful inspiration, the best local resources, the latest trends, and practical planning tips for your special day. Reserve your issue HERE.